Let's Edit Your Landing Page
There are a lot of edit functions in your landing page builder.
It's important to know how the page builder works as it will help you understand how to create/edit your landing page.
Objectives
In this support article, you will learn step-by-step how to edit your landing page including adding a logo and phone number.
Steps
1. Log in to your account. Then, click on Web Tools located at the top of your dashboard menu. In the drop-down menu, click on Landing Pages.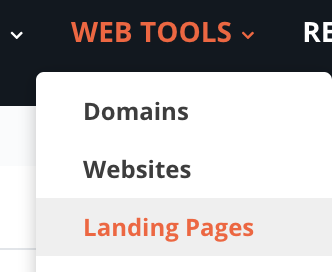 2. You will be directed to your landing page management system. Under Name, click on your landing page that you want to edit.

Video
We have put together a short video to show how to edit your landing page.
Thank You!
We appreciate you taking the time to learn how to edit your landing page! If you have questions, please contact us at support@reiblackbook.com.