The following actions are available under Callflows: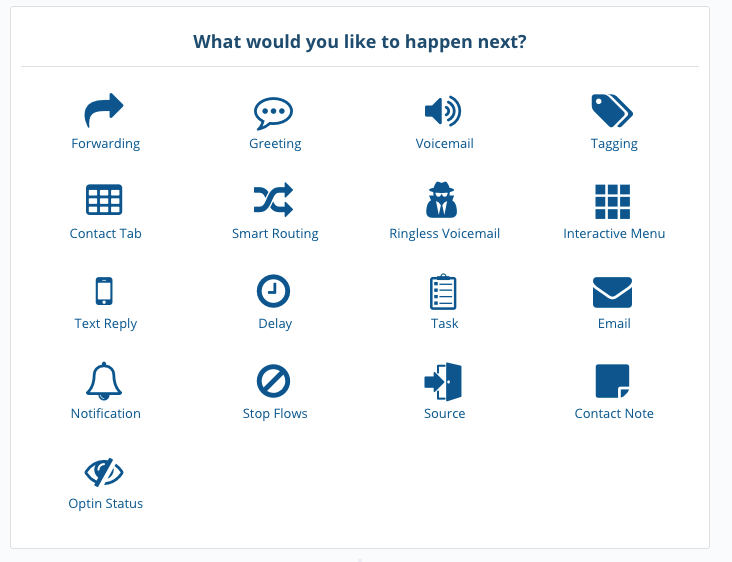 Forwarding - used to forward a call when a customer calls in.  





Greeting - This creates a message that is played when someone calls in. You can either type out your message and a computer Generated voice will read it or use an Existing Recording. 





Voicemail - This plays a message (similar to Greeting) but then after the message the caller can leave a message.




Tagging (Profit Dial PRO) - This will either add or remove tags from the caller's contact record.



Contact Tab: When a new contact record is created you can use this step to select which tab will show up once you view the contact. This way you can have the information that is most relevant to you be displayed. 
 


Smart Routing (Profit Dial PRO) - Created branches in the Callflow that send callers down a certain branch depending on whether or not they fit the criteria of that branch. 
Please Note: If a caller can fit into multiple branches, they will go down the first Branch that filtered is "True".


Ringless Voicemail (Profit Dial PRO) - This will send the caller a scheduled phone call directly to their voicemail (without ringing their phone).





Interactive Menu (Profit Dial PRO)- This module will prompt the caller to select a number on their keypad and send them down a branch depending on what they dial. 


 


Text Reply (Profit Dial PRO) - This sends an immediate  text response to the caller 





Delay (Profit Dial PRO) - This creates a delay in between steps or actions.





Task (Profit Dial PRO) - This module creates a task in your task manager that will be tagged with this contact.





Email (Profit Dial PRO)- This step sends an email to contacts with email address on file. 





Notification (Profit Dial PRO) - This gives you an option to either send a text or email notification when this module is reached in the Call Flow





Stop Flow - immediately stops all active flow for the contact.



Source - sets the source of the caller's contact records.




Contact Note - adds a note to a contact record




Optin Status - option to opt-in or opt-out a contact's phone number and/or email address


Now that you have a general understanding of the different steps you can use in a Workflow, you can create a Workflow with the steps you need. If you have any questions about any of this please feel free to email us at support@reiblackbook.com or call 1-800-507-1945.