In My Team, you will be able to add other users to your account as your team members, and this will give your team members their own login to access your REI BlackBook account. You can set permissions for their accounts based on their role in your company. To access My Team, click on your Name and select My Team from the drop down menu.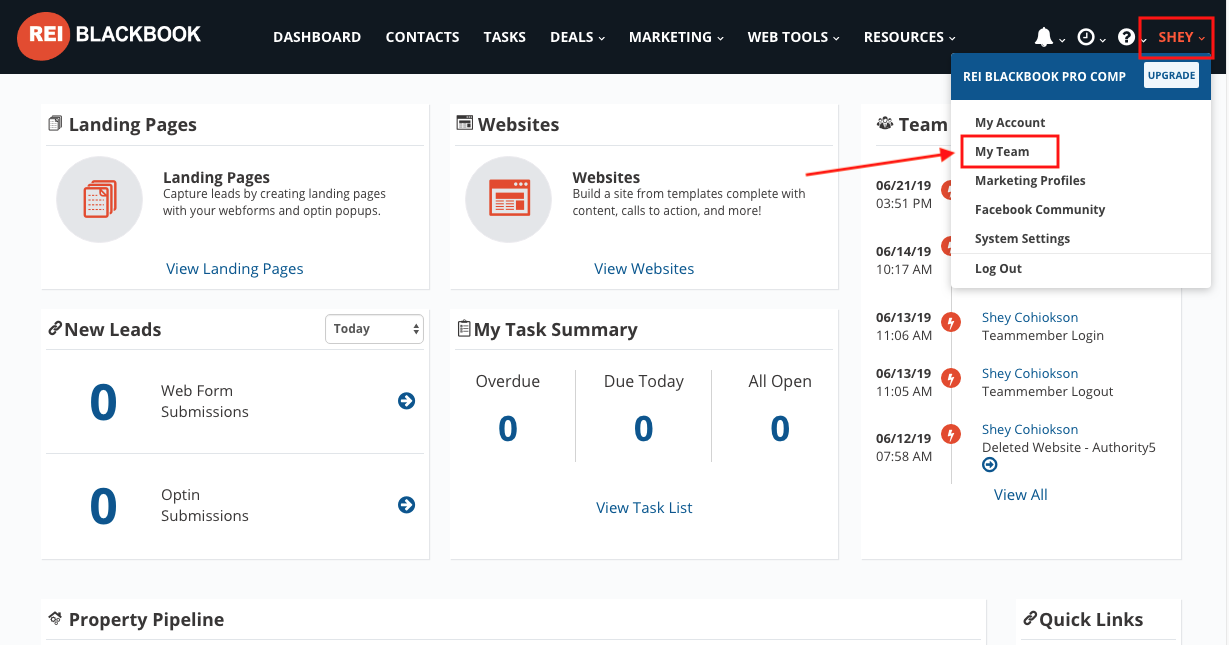 Below are the different parts of the My Team page:
Team Activity - lists the actions made by each member of your team.



Filter - filters the team activity by Today, This Week, Last 30 Days.


+Add Team Member - pulls up the form to add a user in your account. Follow the link for procedures on how to add users on your account.

List of Members - shows the list of users, their status (Active/Inactive) and their email address.


Account Information - shows the member's name, email address and phone number.

Reset Password - will send a link to reset the member's password. The link will be sent to the member's email address on file.

Deactivate User - this link will allow you to remove the member's access to your account.

User Activity - lists the activities completed by the specific member once logged in to your REI BlackBook account.

Permissions - this is where you can decide what parts of REI BlackBook you'd like your team members to have access to in their accounts. Some settings are automatically set to deny as a default because those settings contain sensitive information. However, you can change the permission settings for any settings listed under the Permission Settings.



You now have an understanding of the My Team feature. If you have any questions or concerns about this information please contact us at support@reiblackbook.com.