Let's Discuss the Workflow Builder
The workflow builder has 16 different features. From communicating with a prospect/lead to receiving notifications and assigning tasks, you'll start to rely on workflows for every business task.
This will become one of your best friends in your REI BlackBook account. We guarantee!
Objectives
In this support article, you will learn where to access the workflow builder and you will learn all about the workflow builder's 16 features.
Steps To Access the Workflow Builder
There are two ways to navigate to your workflow builder.
Log in to your REI BlackBook account. From your dashboard menu, click on Marketing located at the top of the page.
In the drop-down menu, click on Workflows under Automation.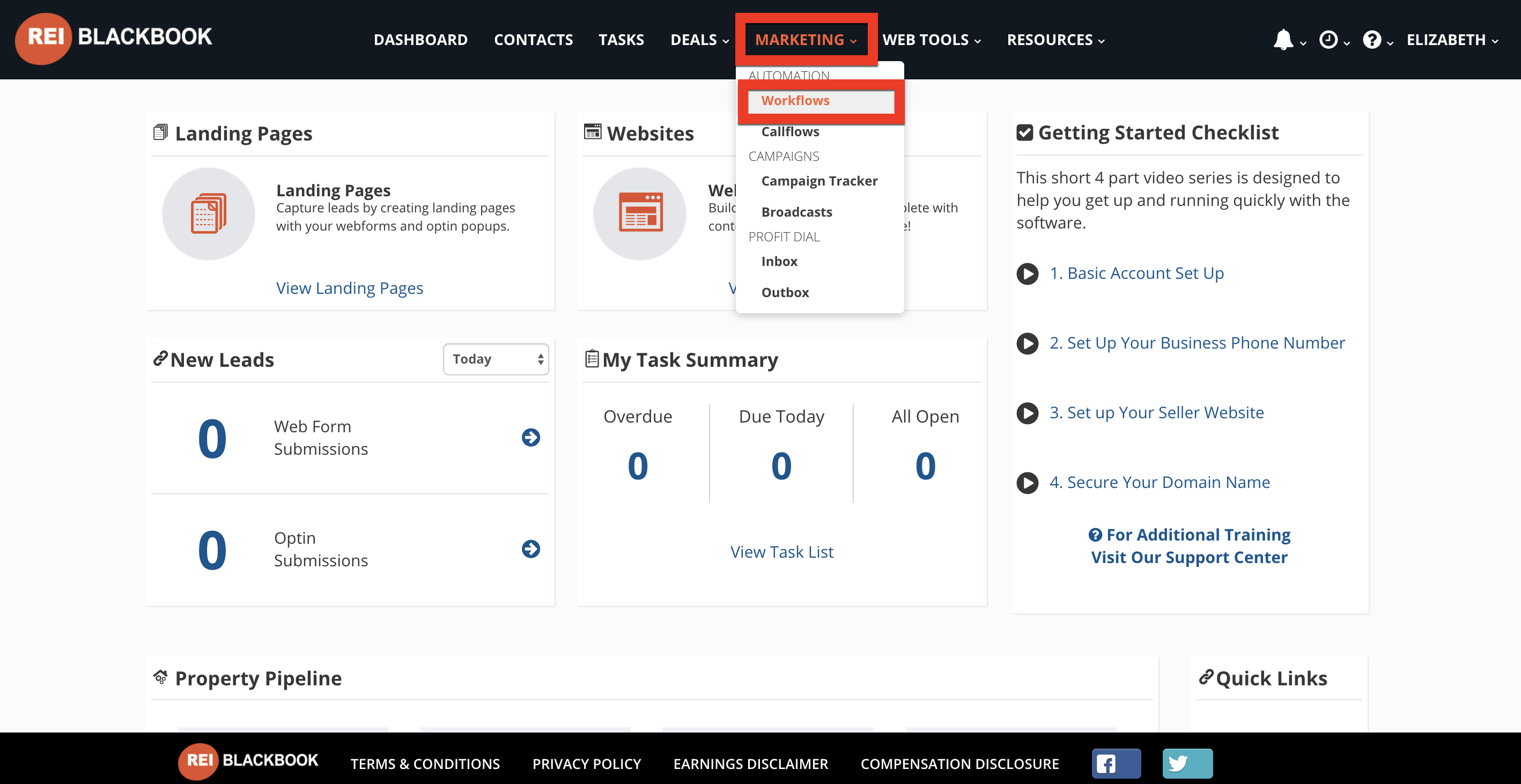 or
Click on your name located in upper right-hand corner of dashboard.
In the drop-down menu, click on System Settings.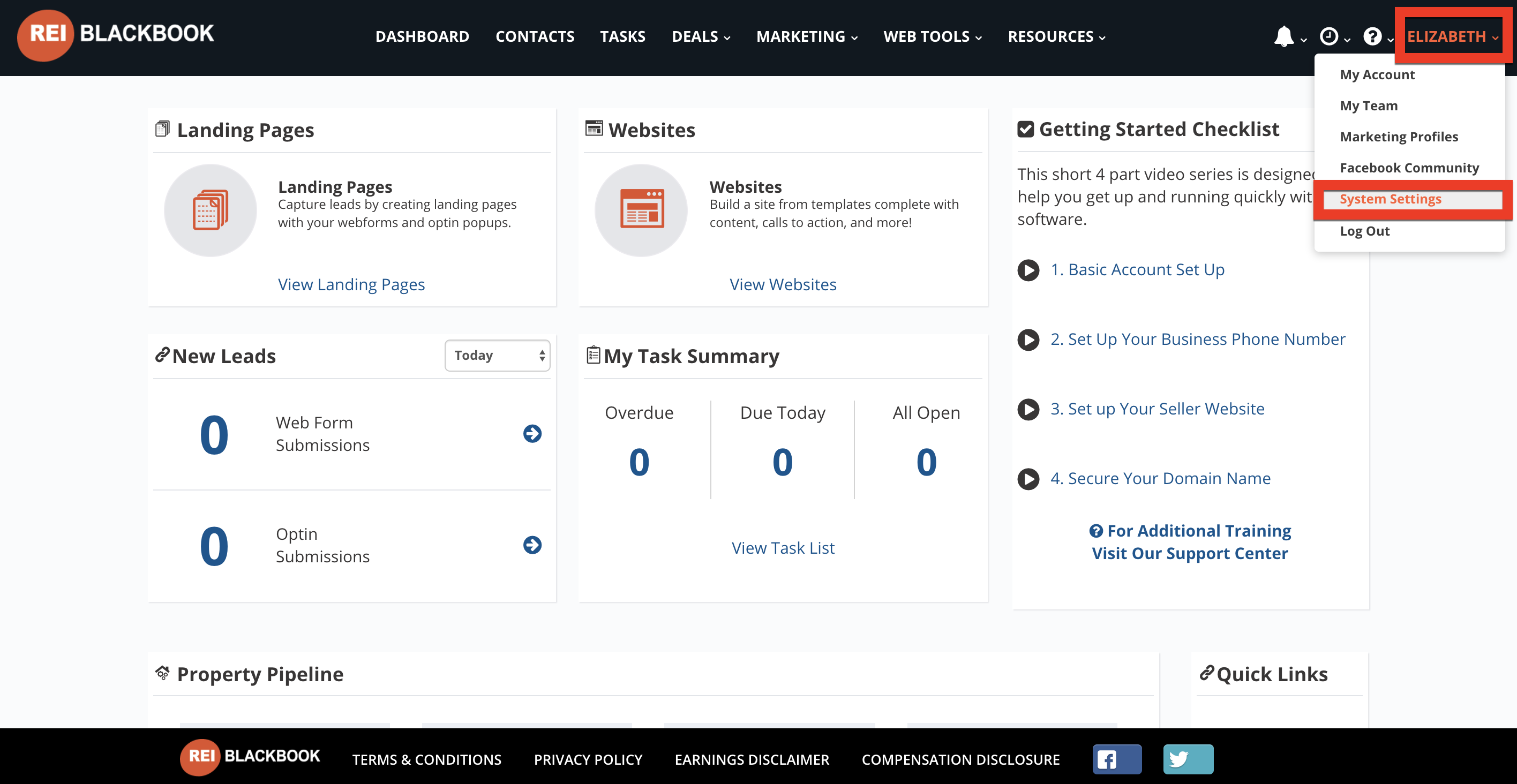 3. You will be directed to a new page. On left-hand side menu, click on Workflows under Automation.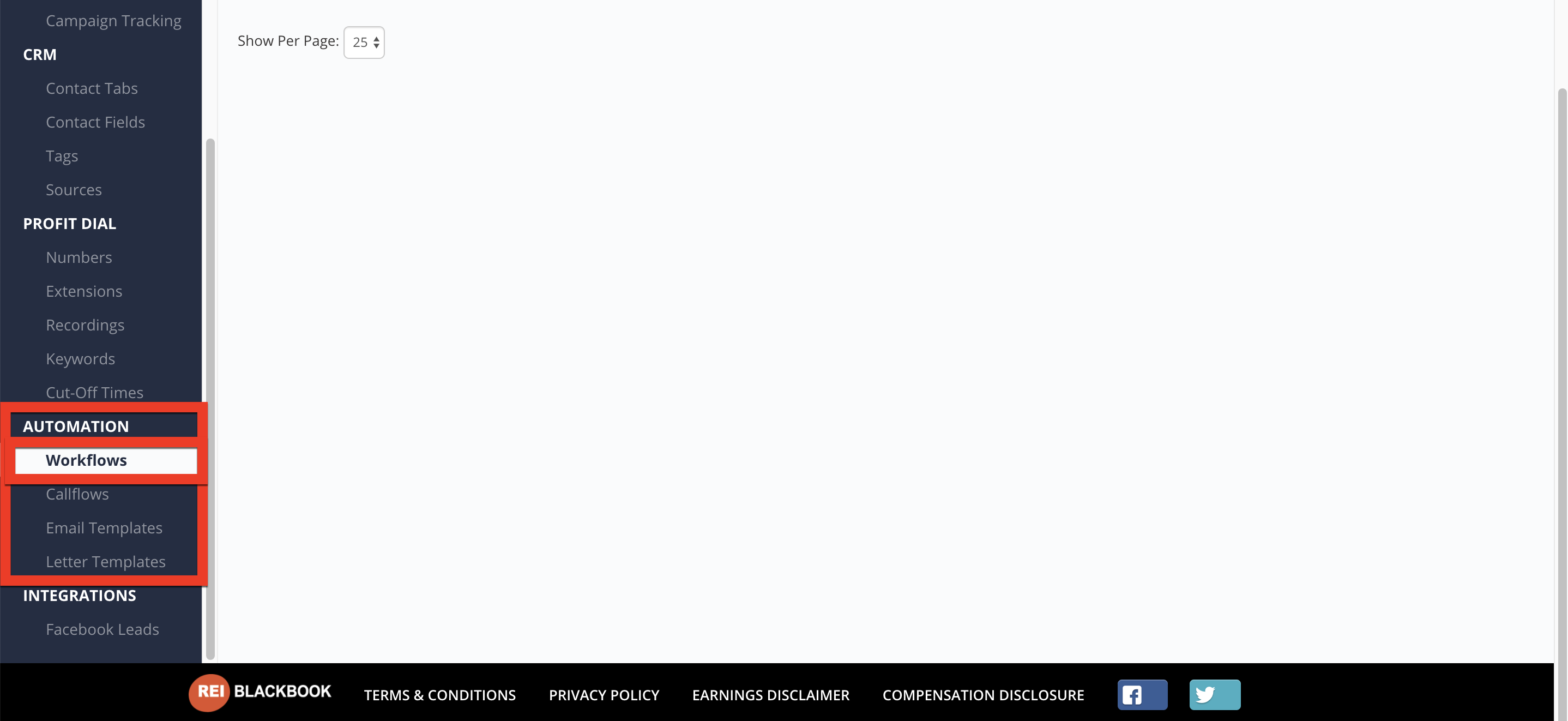 4. It doesn't matter how get you there, but once you do, click on Add New Workflow located in the right-hand corner.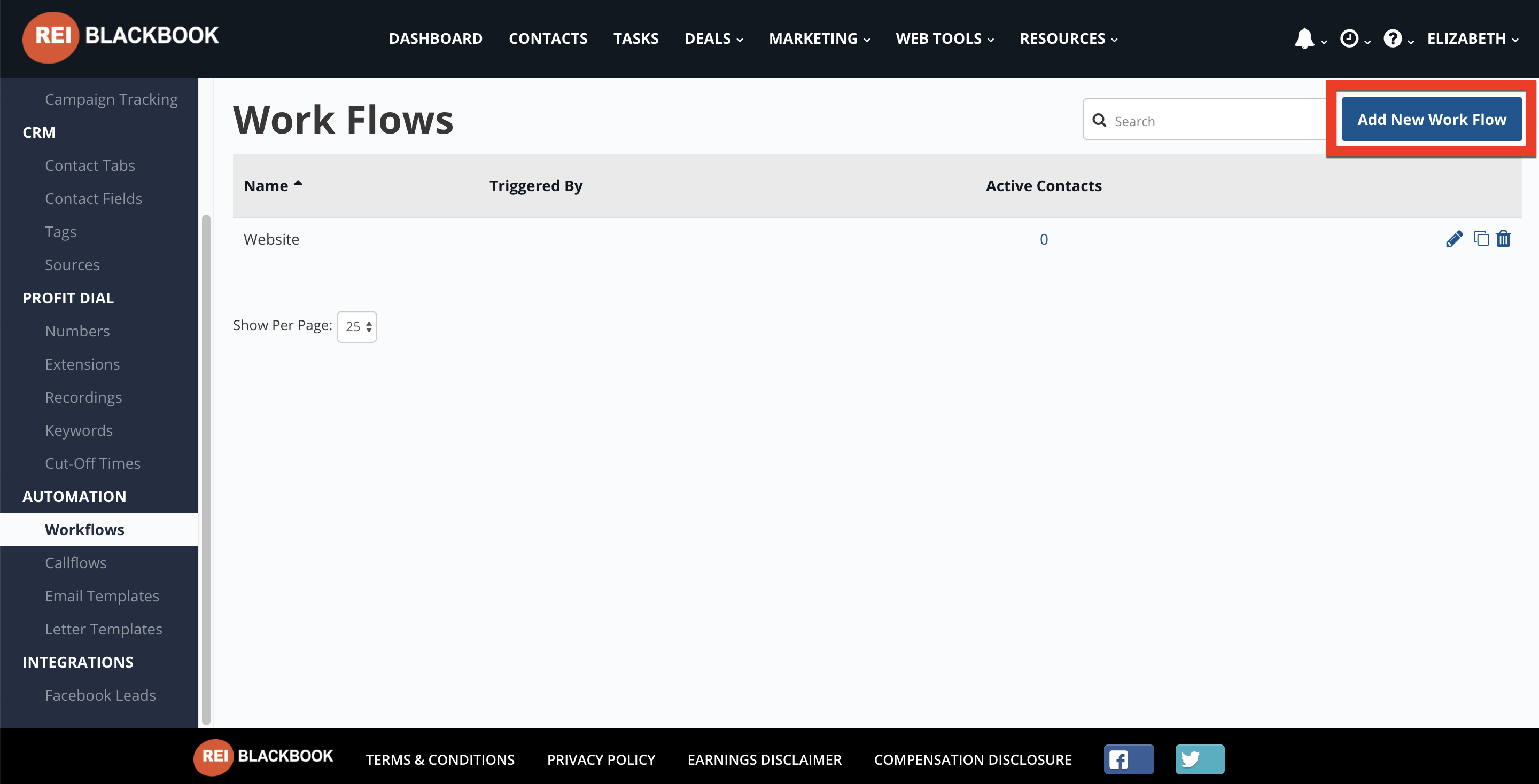 5. You will be directed to the workflow builder.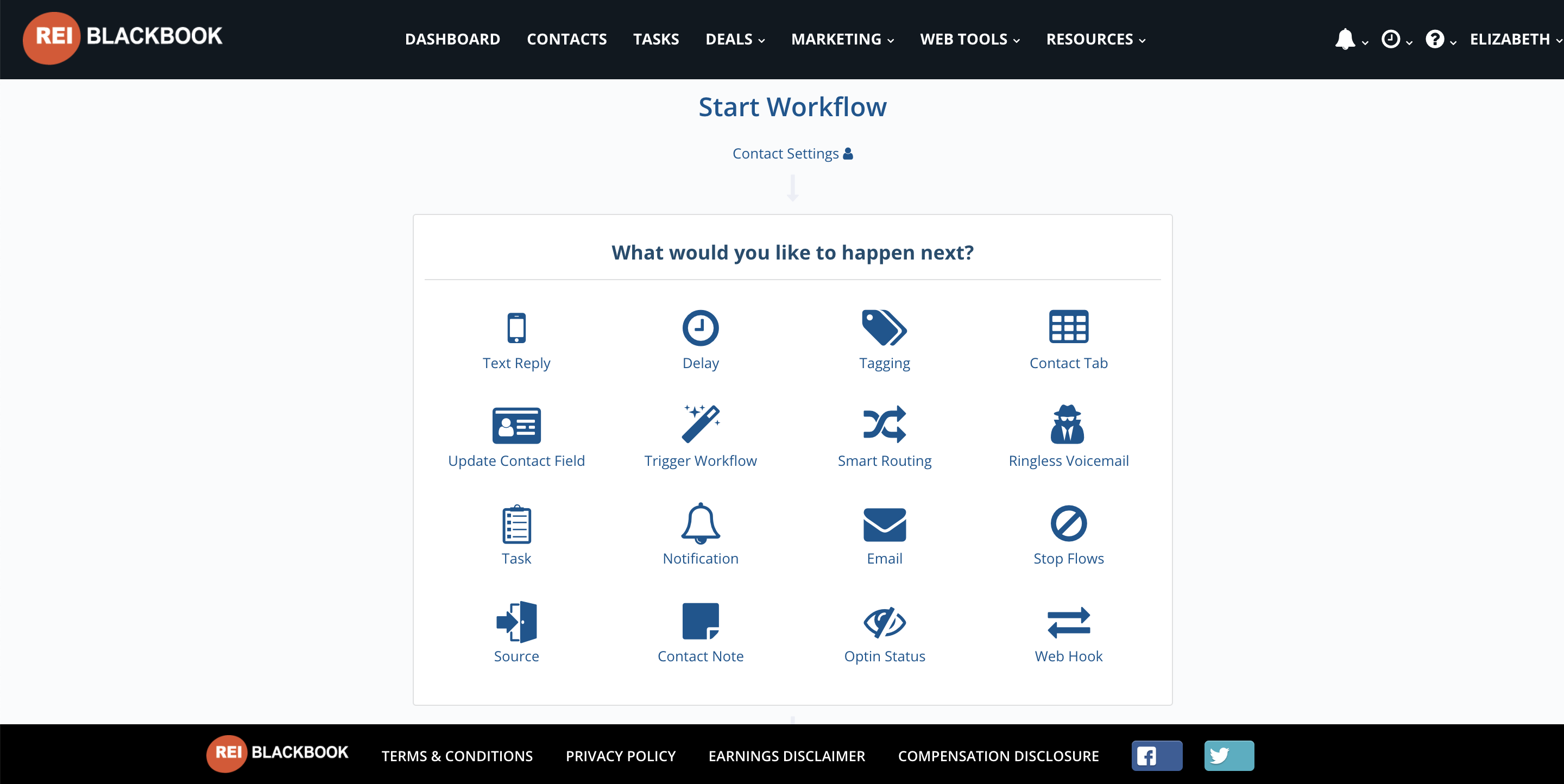 Workflow Builder Features
Before you build a workflow, let's talk about what each feature can do. Once you know that, then you will be able to build workflows that fit your needs.
Here. We. Go!
Text Reply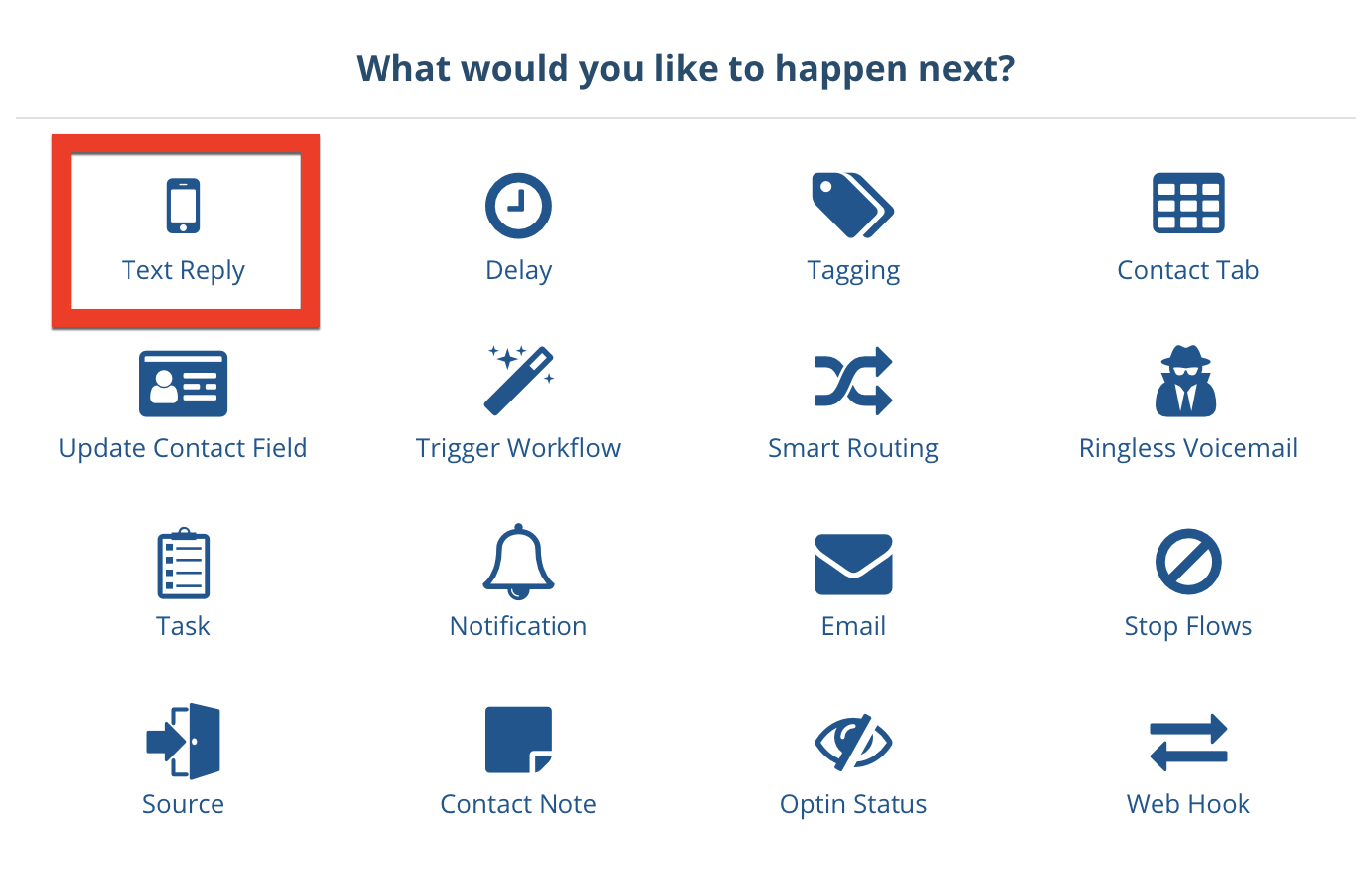 Text Reply lets you send a text message that is sent to a new or existing lead. Personalize your text messages by using the lead's first name and property information.
If the message is going to a new lead, your text message could say, "Hey Chris, this is Josh from STL Home Offers. I just saw that you submitted your property information for a cash offer. Our team is working on it as we speak. If you have any questions, please call or text us at this number."
Be cautious with including links with phrases such as "Click Here" because phone companies may view your text message as a spam.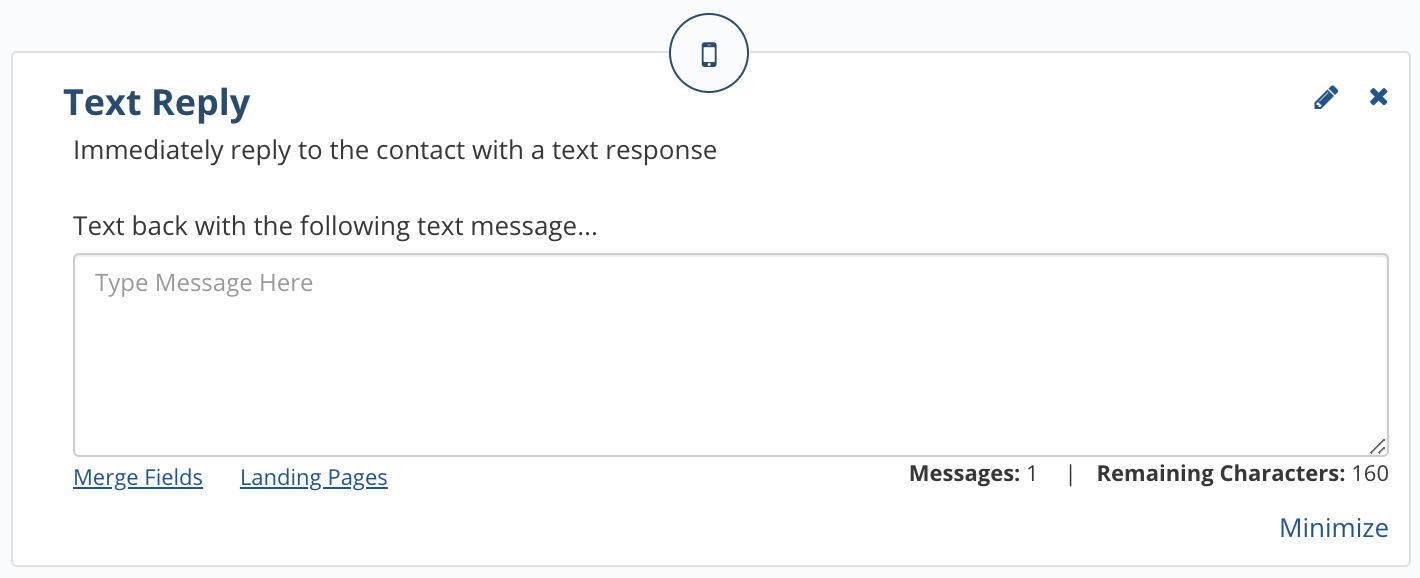 Delay Timer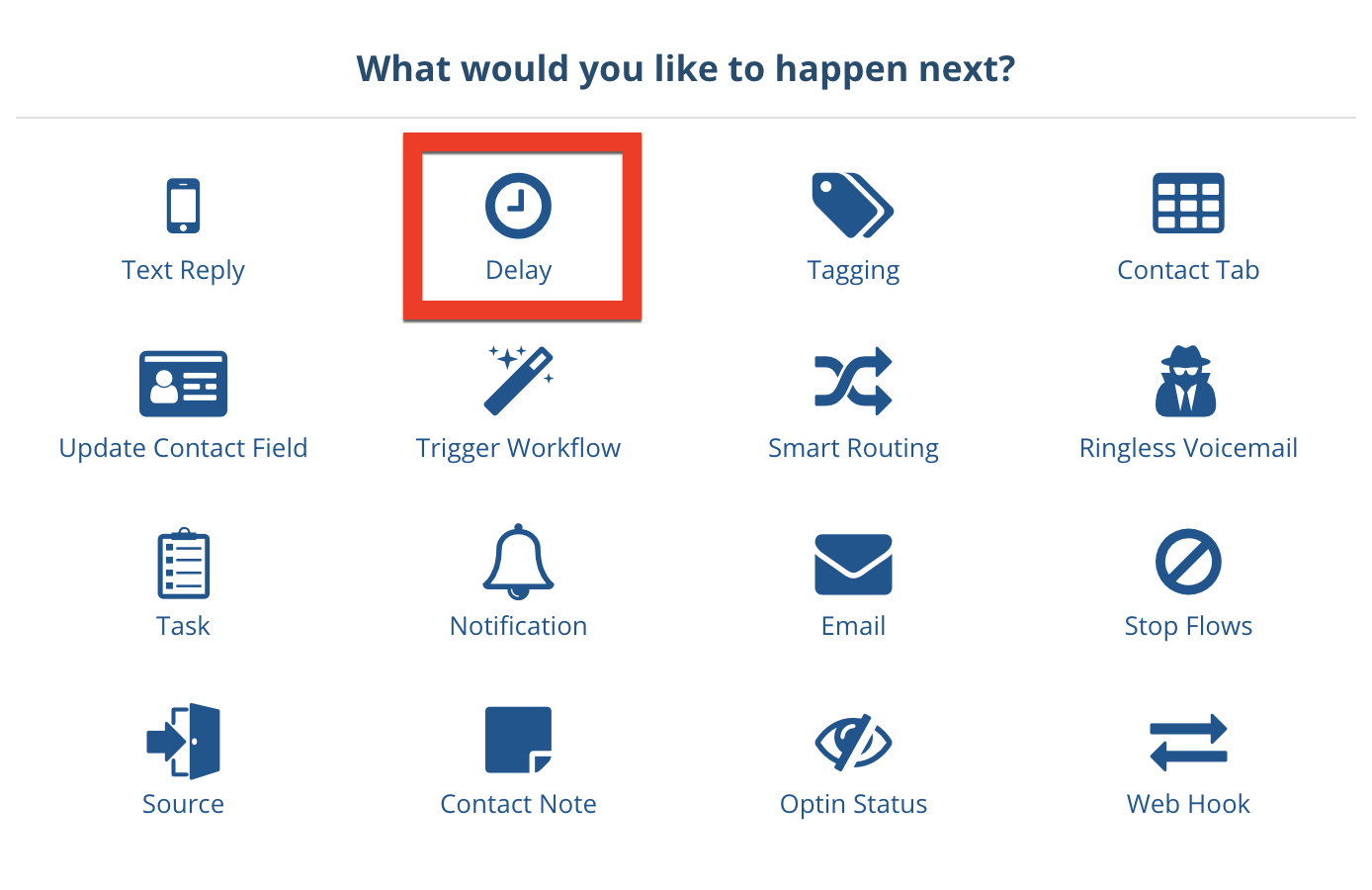 Use the Delay Timer to send texts, ringless voicemails (RVMs) and emails to a lead at a certain day and time. Once you received a webform submission, you can schedule a text message reply to be sent 3 minutes later.
Before sending an email to that lead, schedule when they will receive it. If you received a lead on Tuesday at 12:01 p.m., schedule your email to be delivered 24 hours later, Wednesday at 12:01 p.m. Or whenever you see fit.
You also can create a long-term drip workflow with this feature because it can delay messages after a number of minutes, days, weeks, or months.
Tagging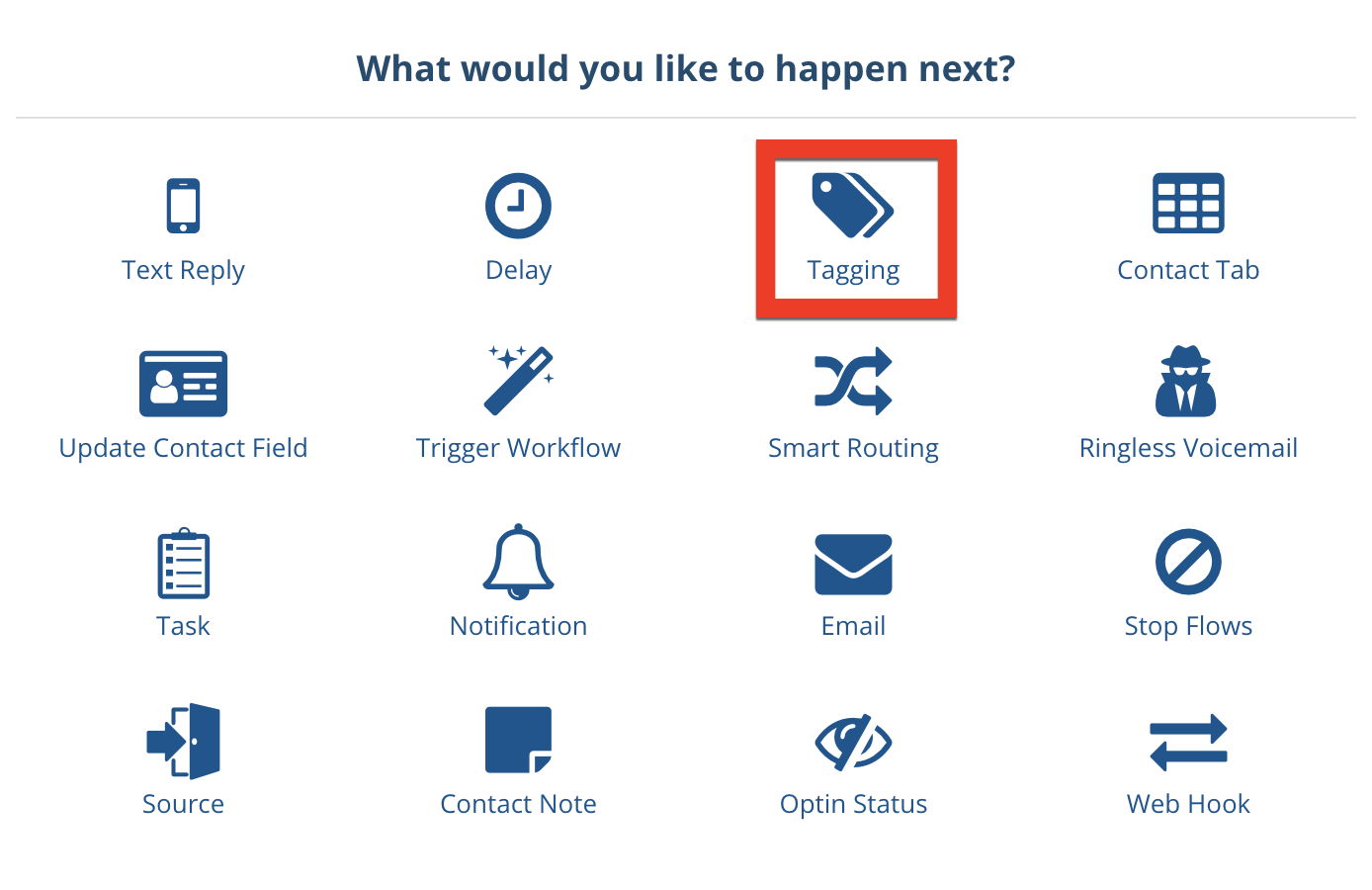 Use tags to identify your new and/or existing leads, prospects and past clients for future communication.
Tagging allows you to categorize your leads. Make sure to tag a lead as they come in because this will make searching for them easier later on.
Be descriptive with your tags and make sure to use a variety of tags for each lead. A few examples include: cash buyers list, absentee owners, probate, foreclosure lead, hot lead, cold lead, among others.
You can have an unlimited number of tags and you can change a lead's tag at any time.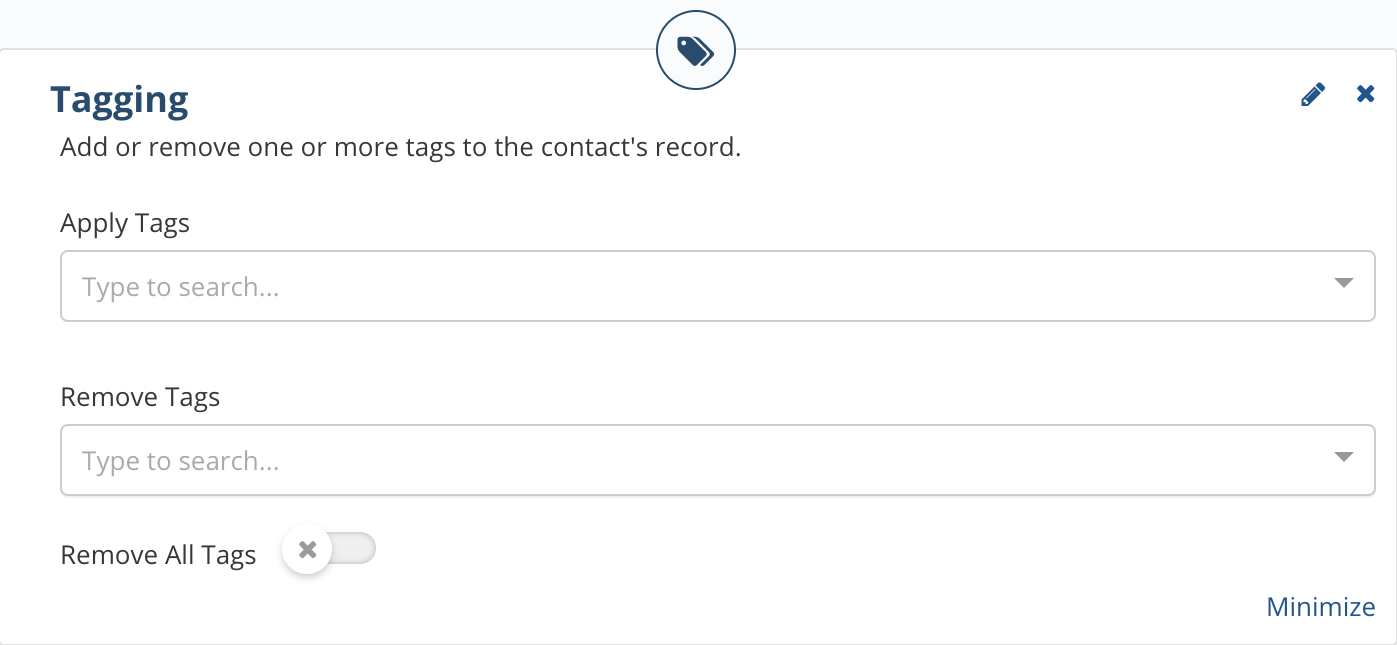 Contact Tab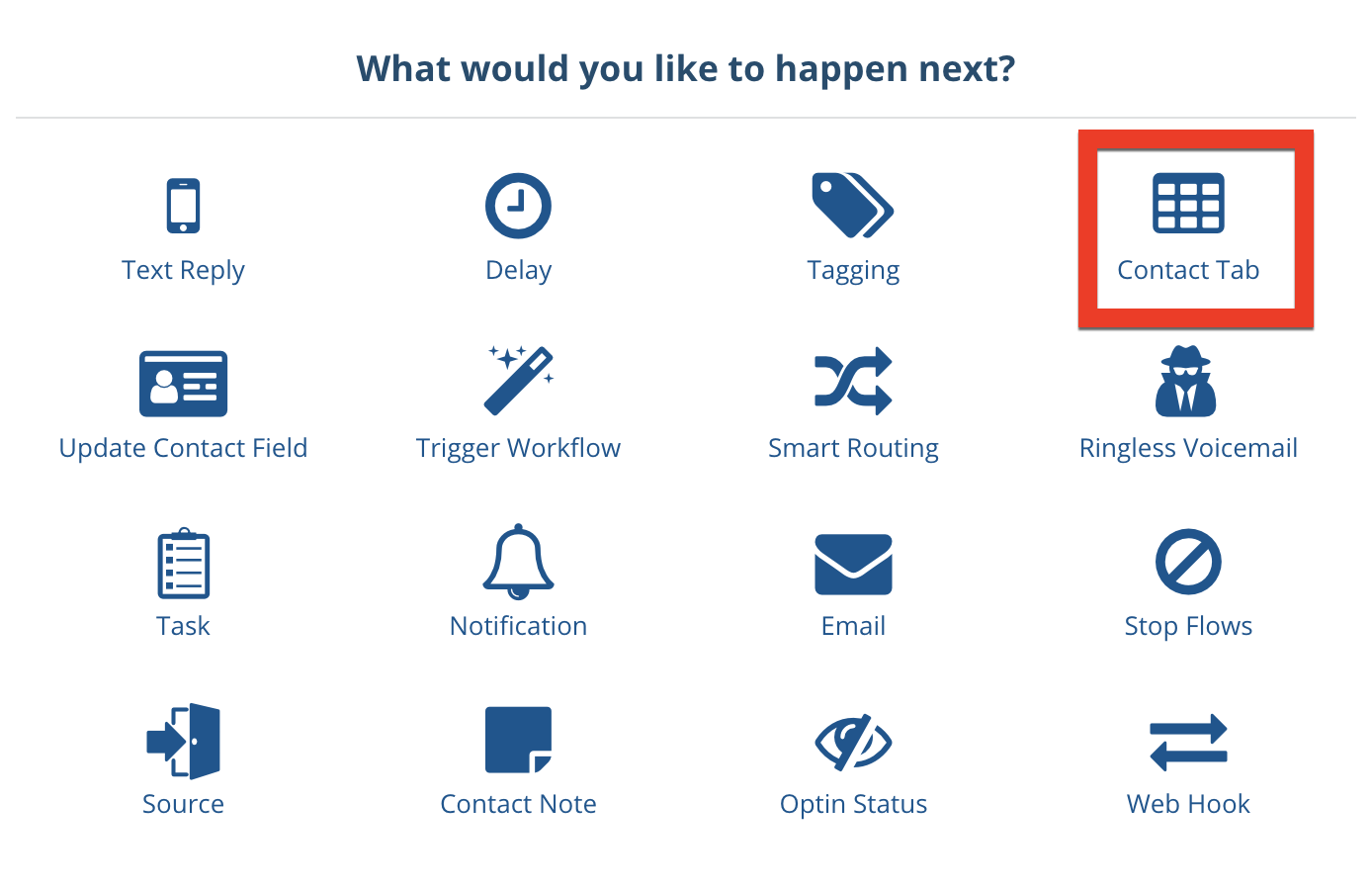 Use a contact tab to create a unique set of data for different types of leads. This allows you to see necessary data fields in each contact record.
Probate leads have different data points than absentee owners. Only see data fields that are necessary in each contact record.
When contact tabs are triggered in a workflow, it tells the system to assign a certain kind of contact tab to a certain kind of contact record, so that the data is available in that contact record.
For people on a foreclosure list, you're going to tab them as foreclosure, source them postcard or mailer (if that's how you reached out to them) and apply a foreclosure contact tab.

Update Contact Field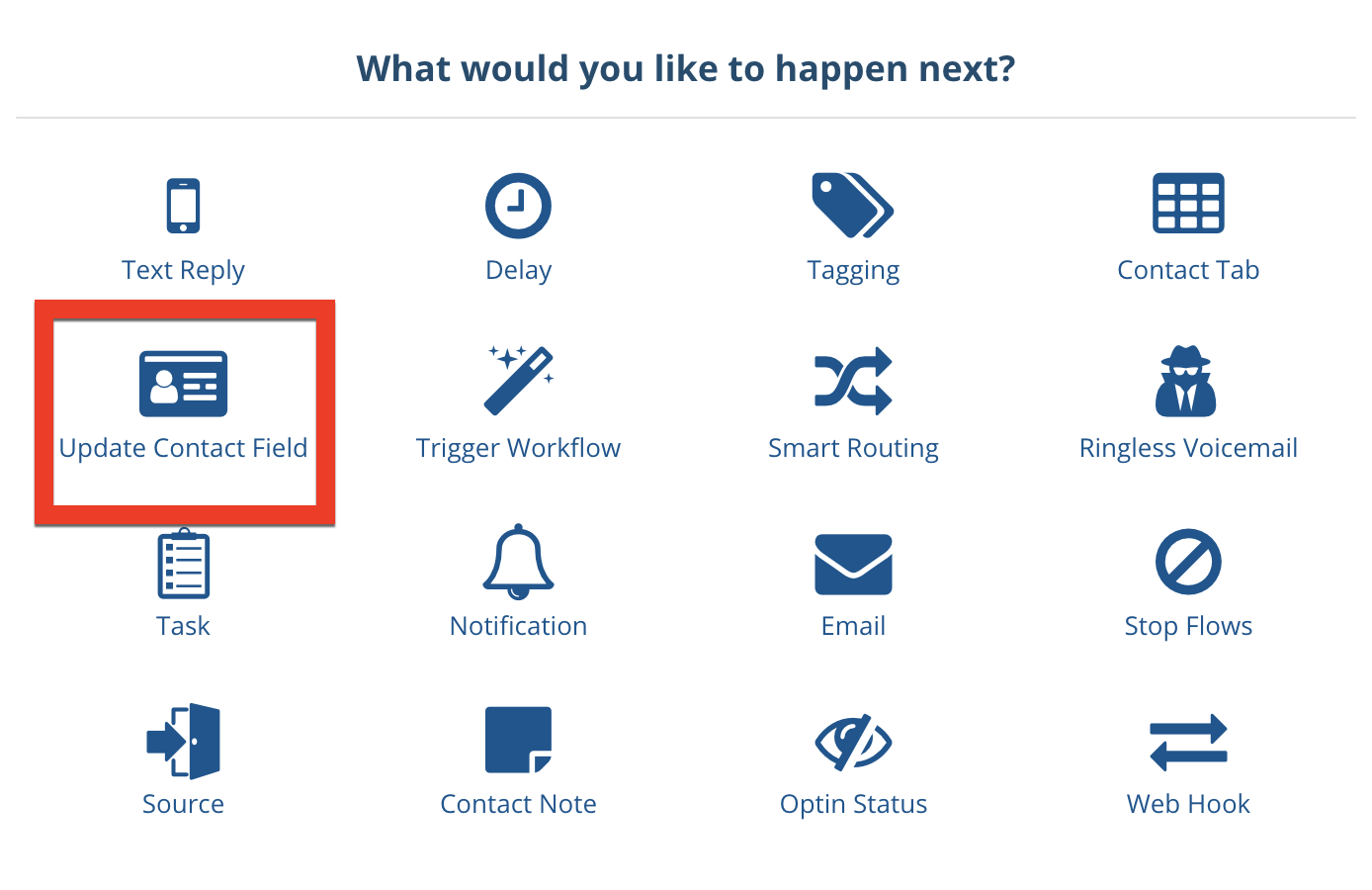 Similar to contact tabs, Update Contact Field lets you include new information that is personal to your leads. You can include contact information, sources, birthdays, or create your own, and more.

Trigger Workflow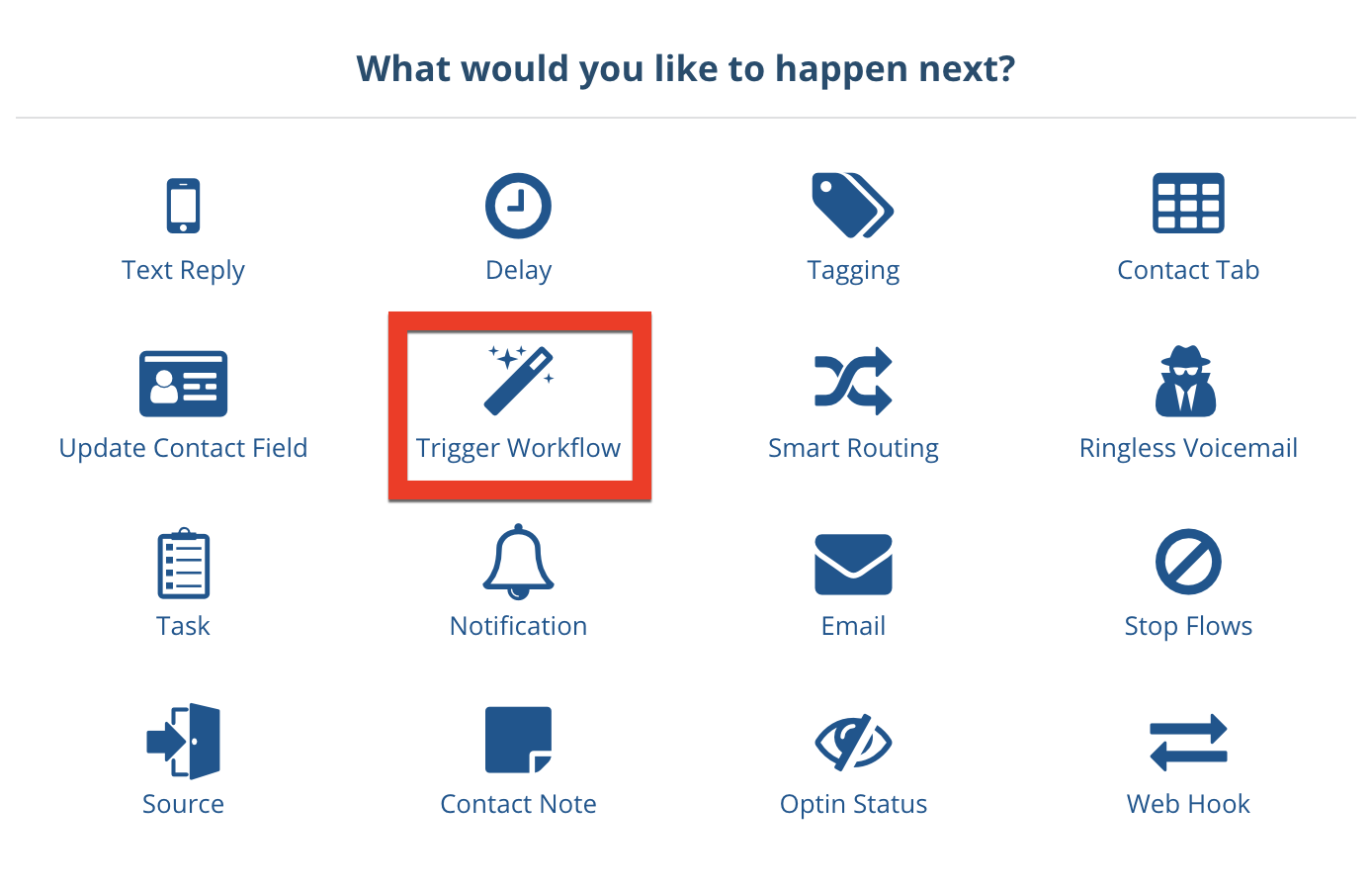 Workflows can be triggered by a webform submission, an in-bound keyword text message, voicemail, email, or a manual entry.
A separate workflow can be triggered by an existing workflow. When a dead lead calls back or fills out a form, trigger a new flow to move them to the next stage in your sales process.
At any point in time in the additional workflow process, a dead lead may become an active lead. When that happens, it is important that the workflow messages are stopped.
Create opt-out mechanisms in the workflows right when a dead lead becomes active.

Smart Routing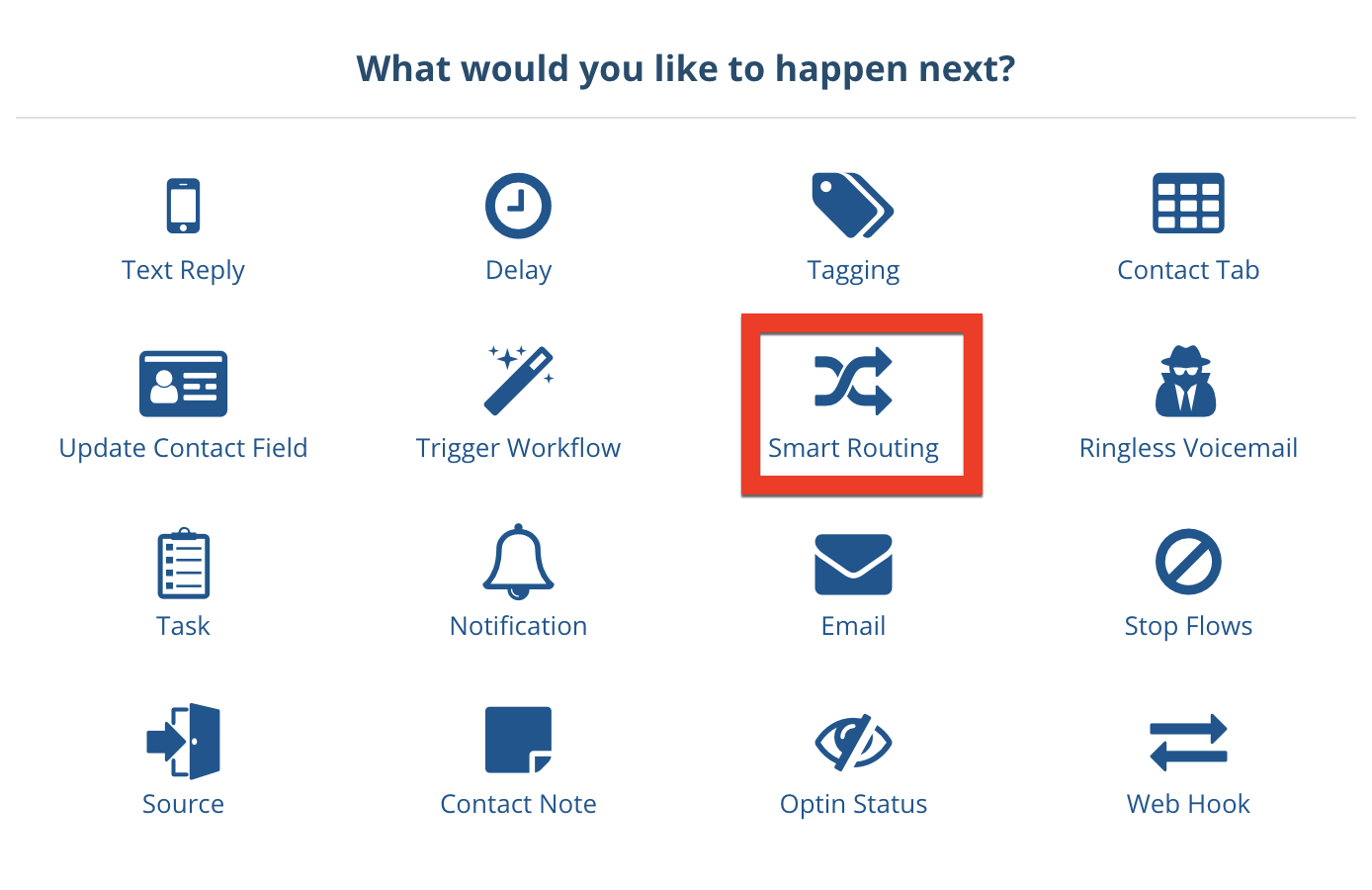 Smart Routing is sending prospects and leads down different branches of your workflow based on previous behavior.
Use tags, sources and more to route your contacts.
If a lead calls in for the first time, send them down Path A. If a lead calls for a second or third time, send them down Path B.

Ringless Voicemail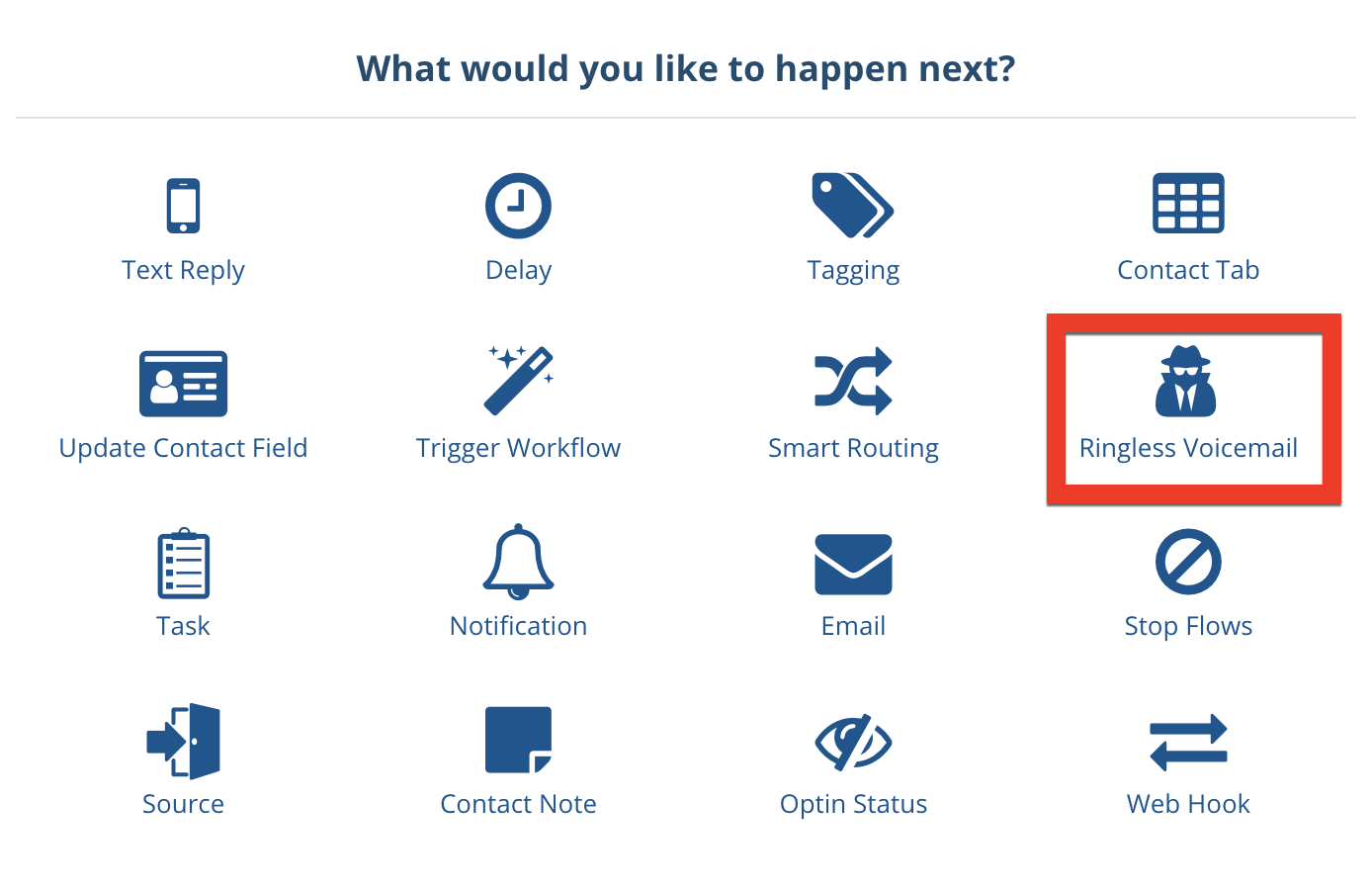 A Ringless Voicemail (RVM) is a pre-recorded voicemail message that is sent directly to a caller's phone inbox without their phone ringing.
If a lead has gone cold, send an RVM every month in an effort to stay in touch and re-engage with that lead.
The more personably the Ringless Voicemail sounds to a lead, there is a higher chance that they will return your call.

You are halfway through! Keep it up!
Assign a Task
Assign a task to yourself or to a team member when a workflow is triggered.
When a lead is submitted on your website or from another way, trigger a task follow up immediately with that lead.
"We just received a new lead from our website. Call back to get more info immediately."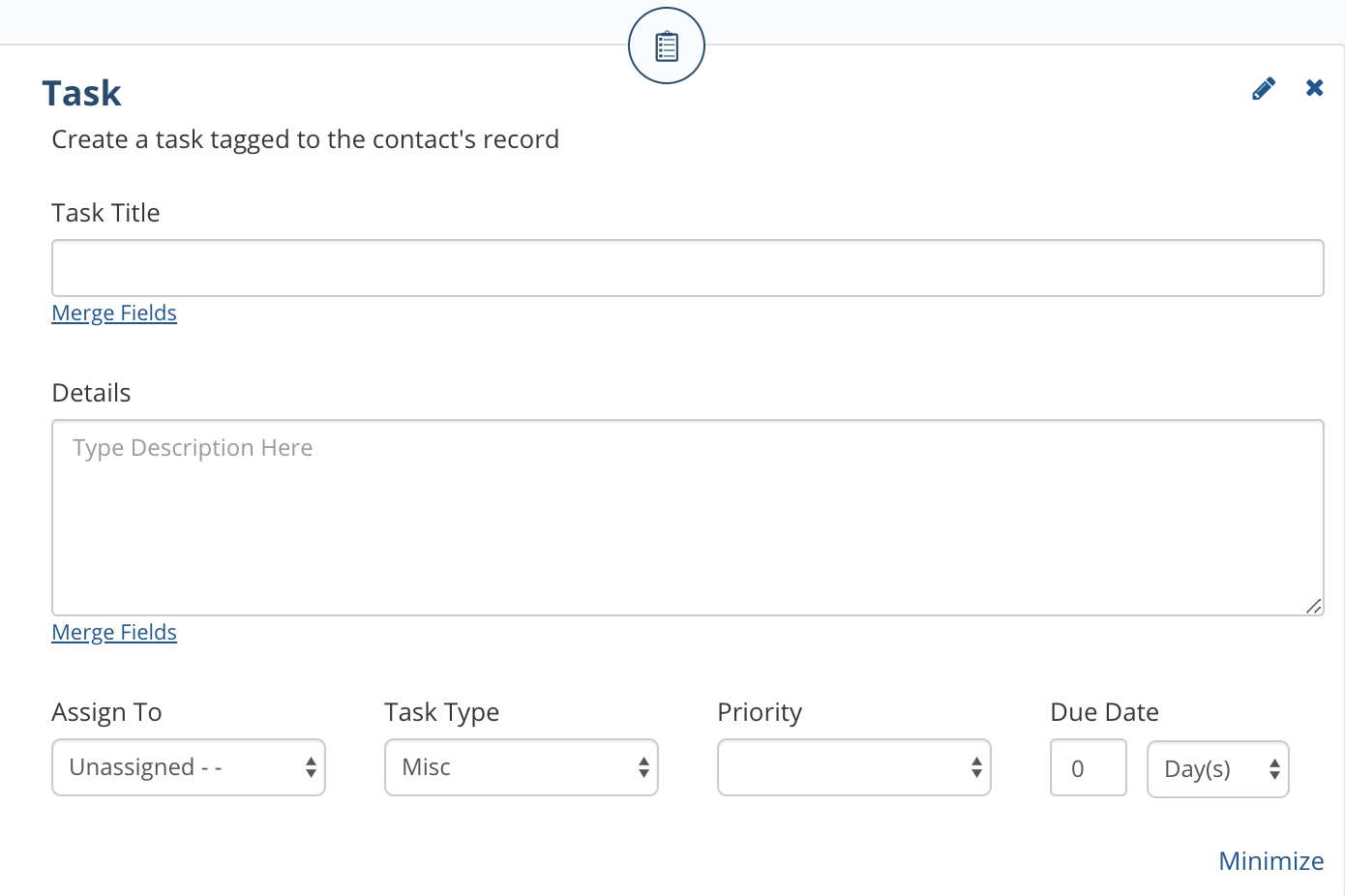 Notification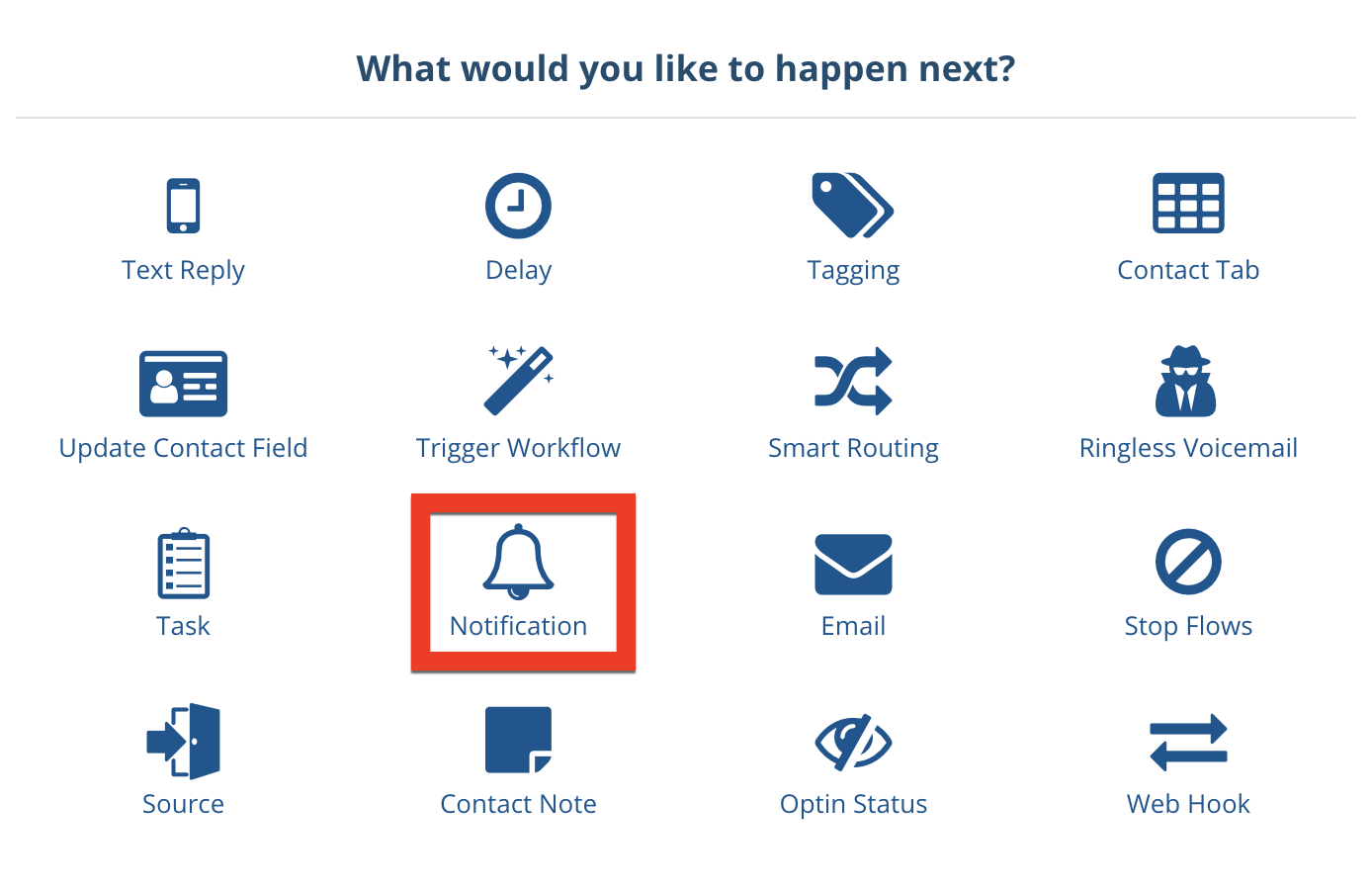 A notification is an internal message that lets you or your team members know that a workflow has been triggered.
You can send notifications via text message or email.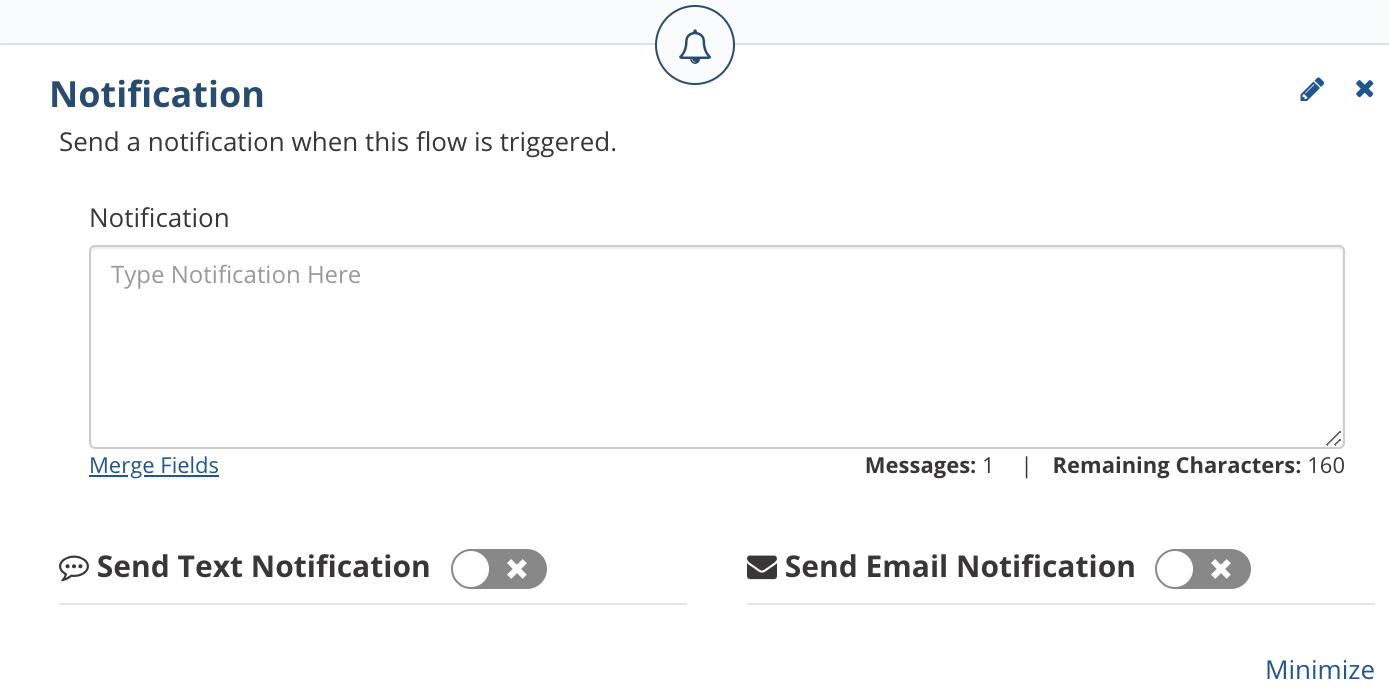 Email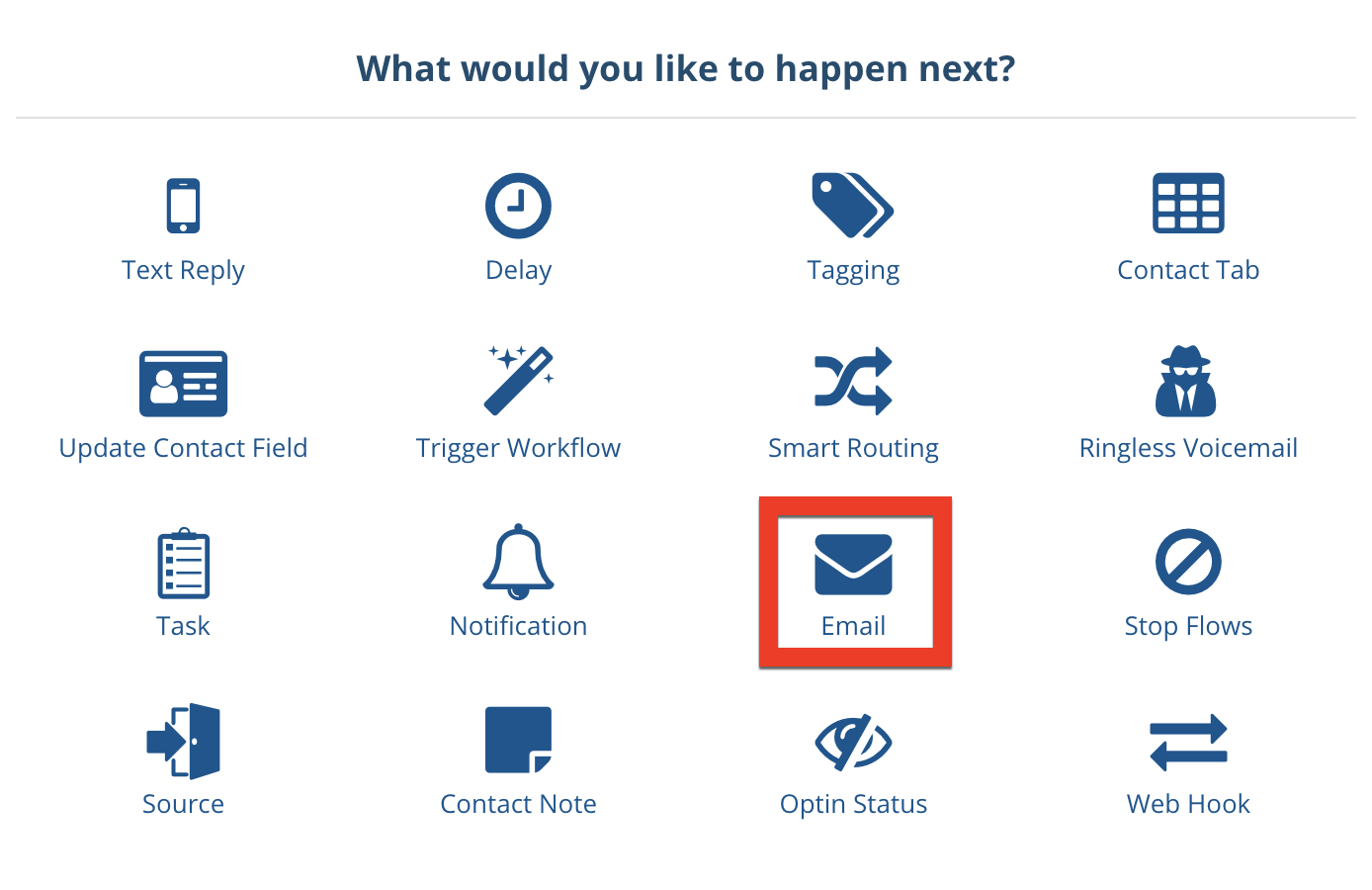 You can send an email to a new or existing lead when a workflow is triggered. Send one email or a series of emails to stay in contact with prospects and leads.
When a new lead is submits a webform, send a confirmation email to that lead letting them know that you have received their information and that you will be following up with them shortly.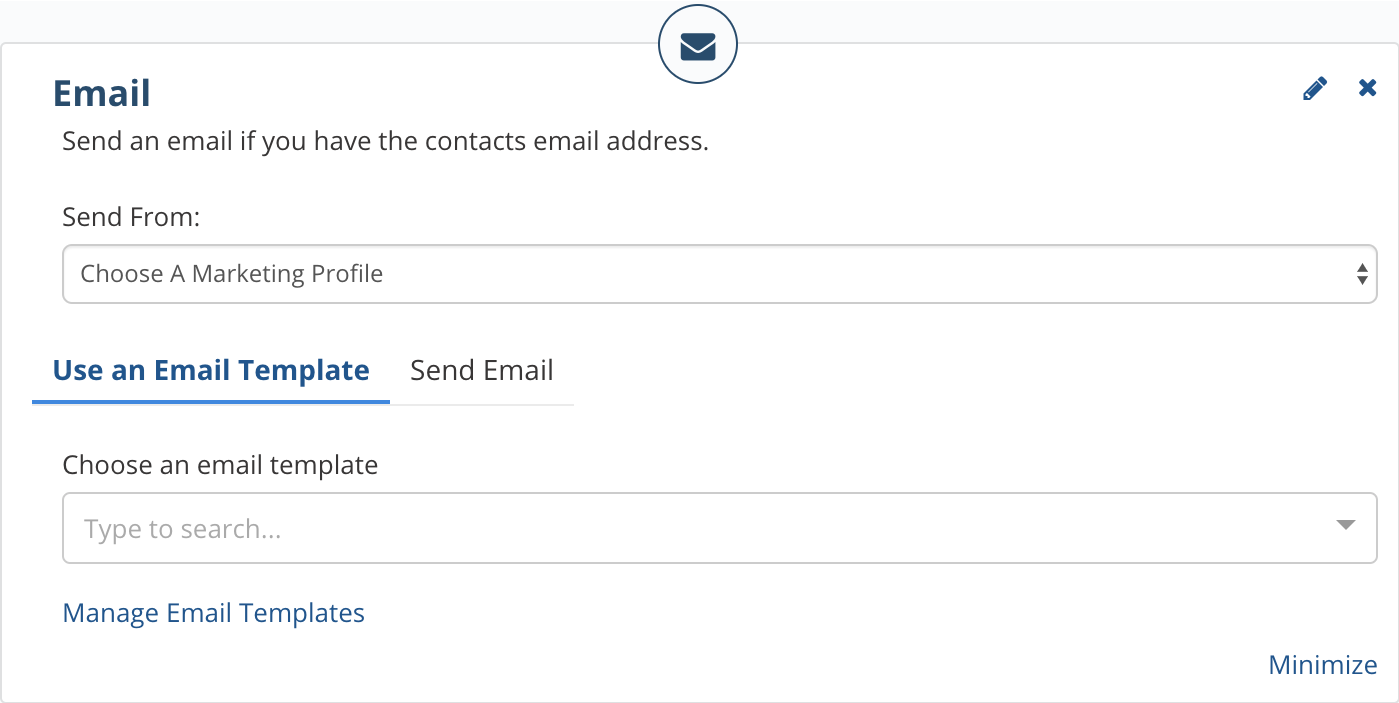 Stop Flows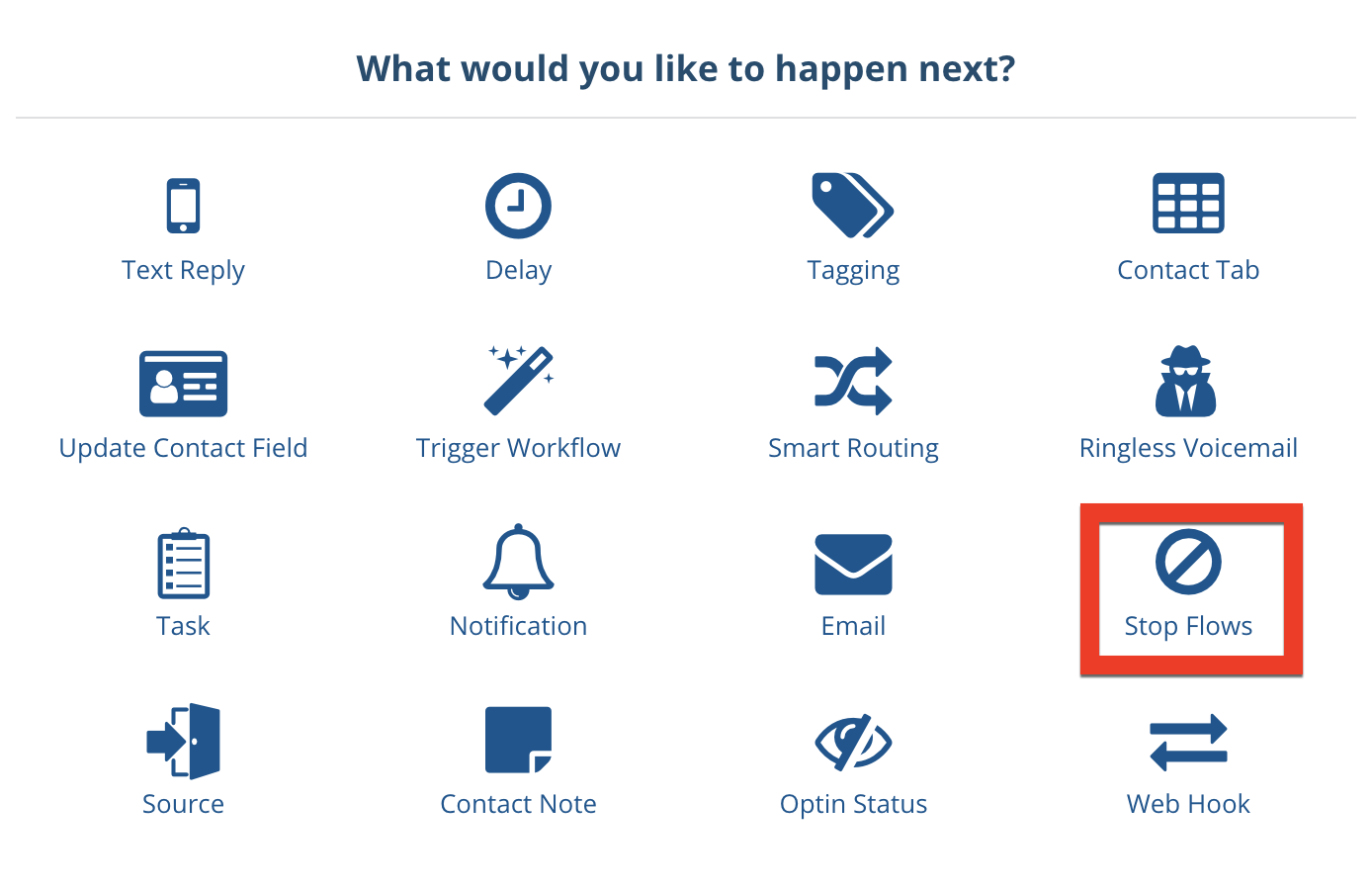 When a prospect advances through your sales funnel from one stage to the next, you will want to stop the existing workflow and trigger the next workflow.

Assign a Source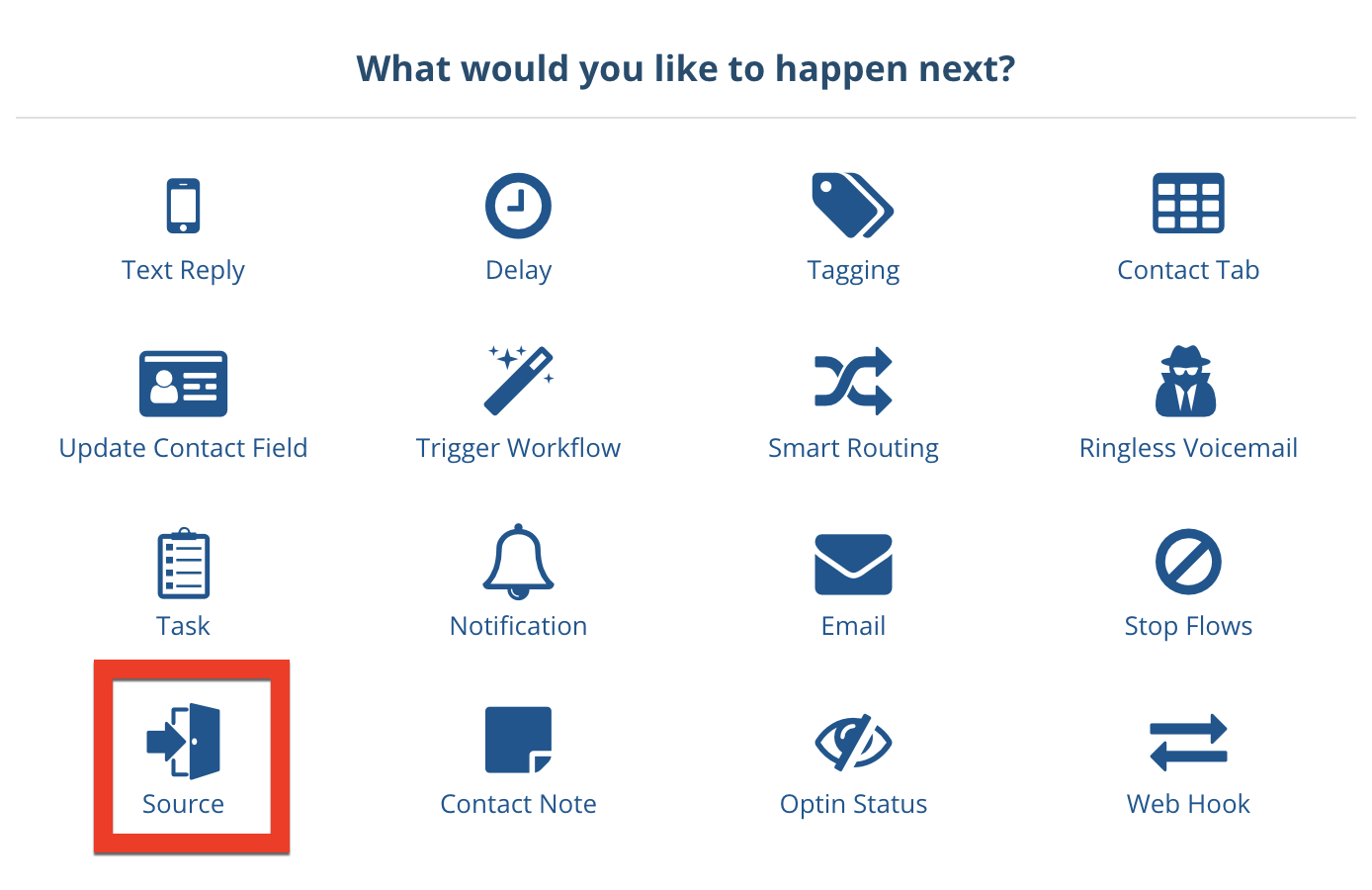 Determine where a lead came from and label it in a workflow by assigning a source to your new lead.
If a new lead submits a form on your seller website, then you could assign the source as Seller Website. If the lead is from a certain city, you also could assign that city as the source.
Contact Note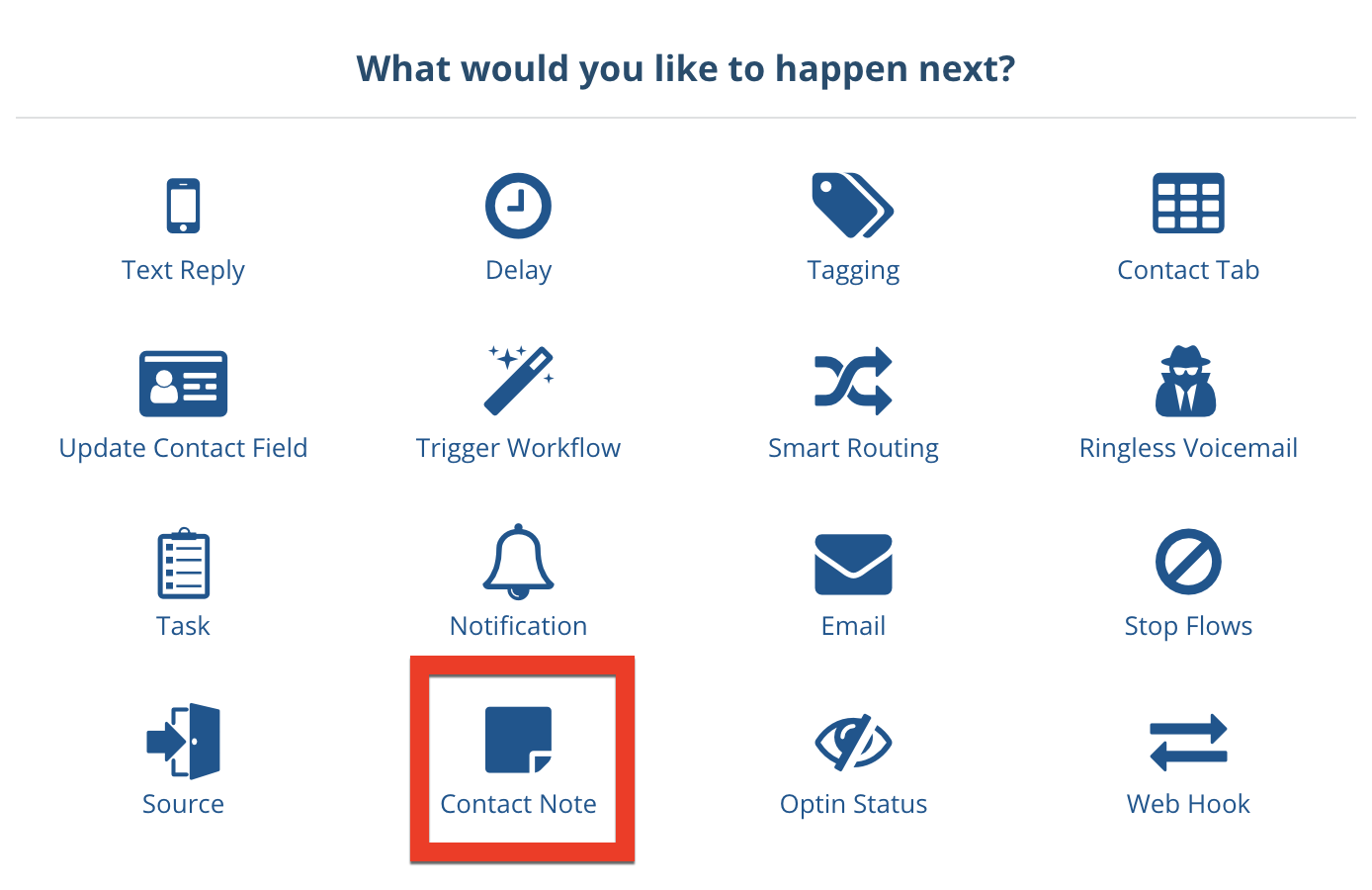 You can create contact notes about certain leads and apply those notes throughout to their workflow cycle.
If a lead completes a workflow and they do not take action, you can apply a note to their contact record stating that they did not take action.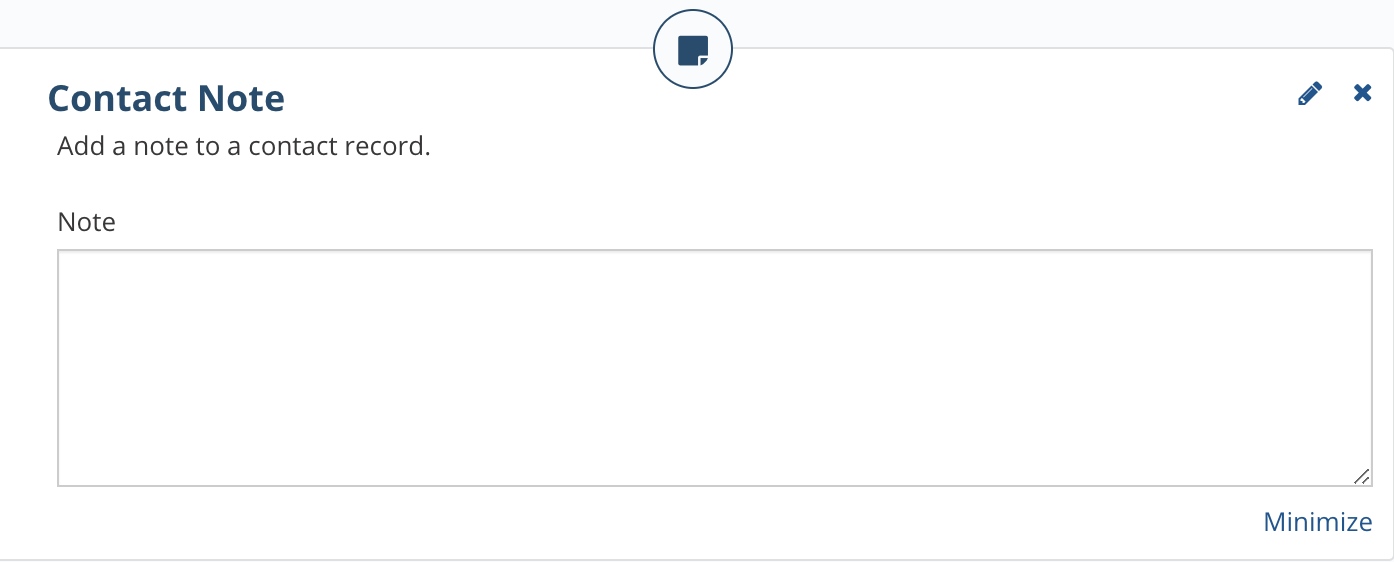 Optin Status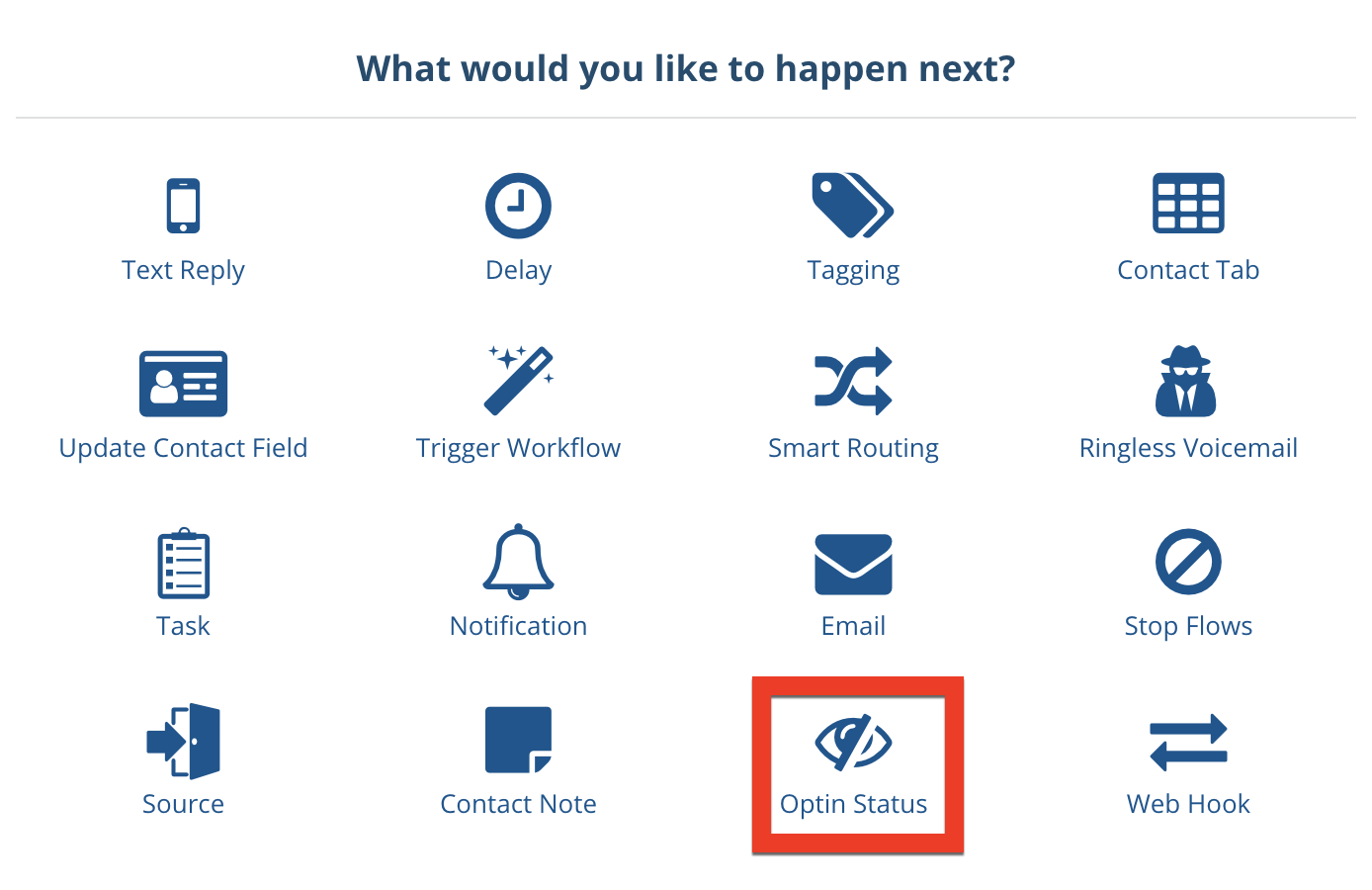 If a lead completes a workflow and they don't take action, you can decide to opt them out of all future communication.

Web Hook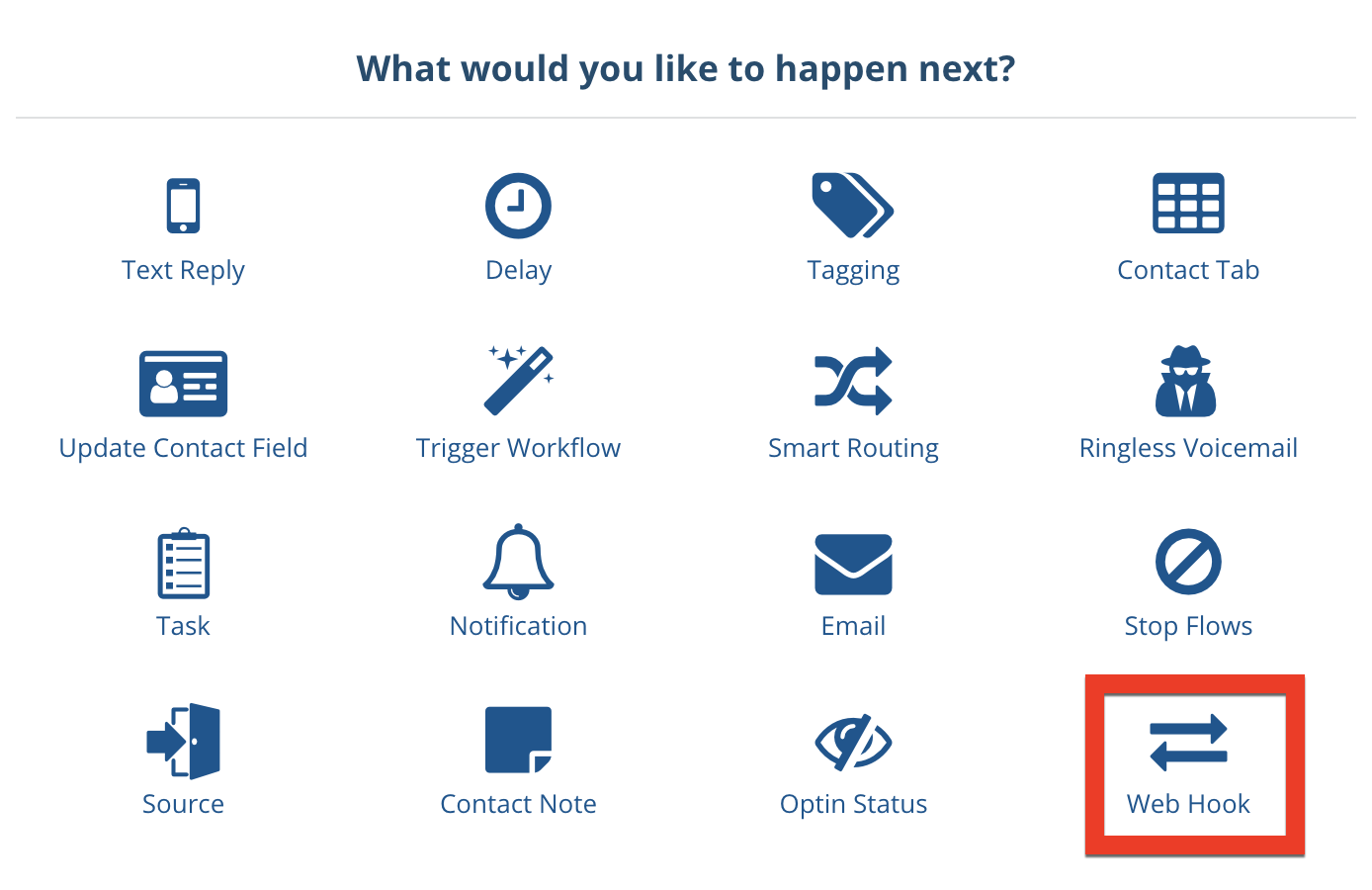 A webhook is one way of communication from one application to another. It is an automated message that is sent from one application to another when something happens, which are sent to a unique URL.
If a new lead submits a webform on your website, an automated call may be configured to ask the server to send out a welcome email.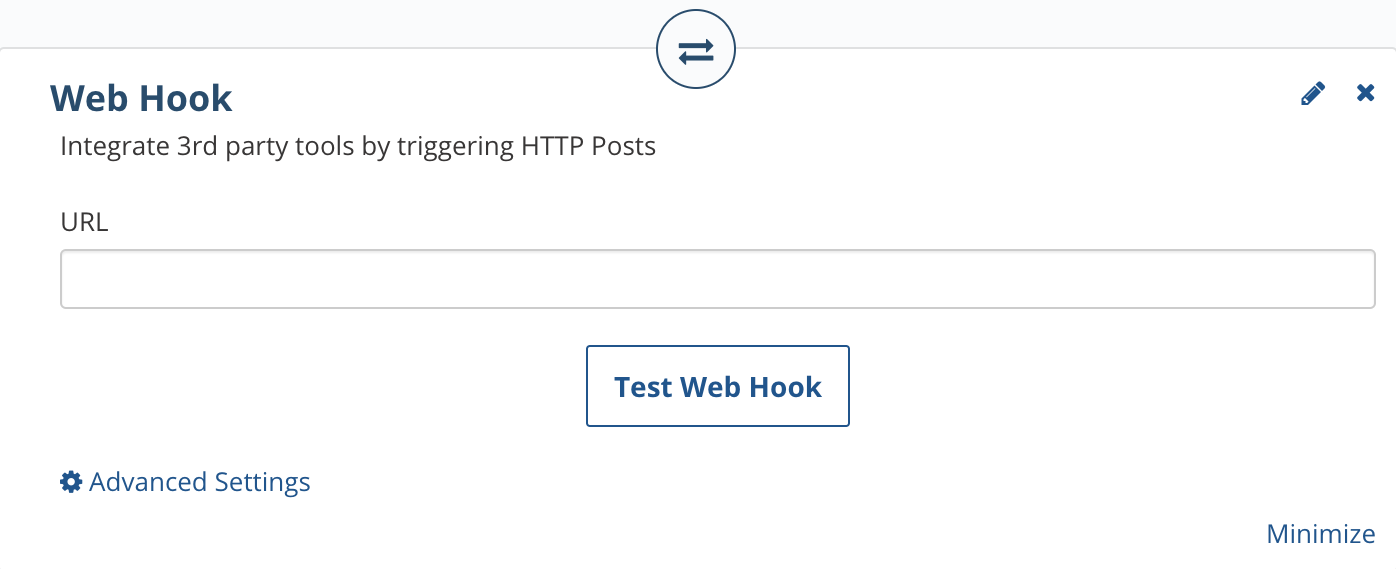 Thank You!
We appreciate you taking the time to learn about the features in our workflow builder!
Next Read
Click here to learn how to build a workflow.