Welcome to the REI BlackBook support center! Our support team is here to teach you how to use our tools and answer questions you may have for us.
In this article, you will learn not only how to set up your marketing profile, but also what it is, why it is important and the perks to using this awesome feature.
What Is a Marketing Profile? How Does it Work?
A marketing profile is an application that stores your company's contact information, including company name, your and/or employee name, logo, email, phone number, etc. and it's used to populate your contact information when creating email templates, property fliers, single property websites, and other points of communication that you send to your clients.
For example, if you are sending an important email to all of your clients, it can be exhausting typing in the same information over and over.
Once you fill out your marketing profile with your company's contact information, you won't have to fill it out ever again. Click on the merge fields, which will insert your company's information right in the email for you. For more information on using merge fields, check out Create an Email Template.
All you will need to write is the body of your email, proofread for mistakes and click send.
Some Things to Remember
A Primary or Default marketing profile is your first marketing profile that was created. If you create more than one marketing profile and don't select the one you want to be used, then the application will default to the first marketing profile that you made.
Additionally, when updating your company's contact information in a marketing profile, this does not update your company's website.
Why Is a Marketing Profile Important?
A marketing profile will save time and energy because you won't be repeating the same task. You will be able to focus on everything else on your to-do list.
What are the Perks?
There are so many benefits with a marketing profile.
You can create an unlimited amount of marketing profiles for your company or companies, and you can link to your employees' marketing profiles.
For example, if you wanted an employee to send out an email to clients instead of yourself, there is an option to switch marketing profiles to your employee's name. Be sure that your employees have created their marketing profile first.
You can assign a marketing profile to your different property pipelines. Some users like to create different limited liability companies (LLCs) for each one of their properties.
For example, let's say that you have one company for selling houses and another company to fix and flip houses. When you market those different houses, be sure that you are using the correct marketing profile when creating emails, property fliers and single-property websites.
How to Set Up Your Marketing Profile
STEP 1: Click on your NAME on the top right corner and select MARKETING PROFILES from the drop down.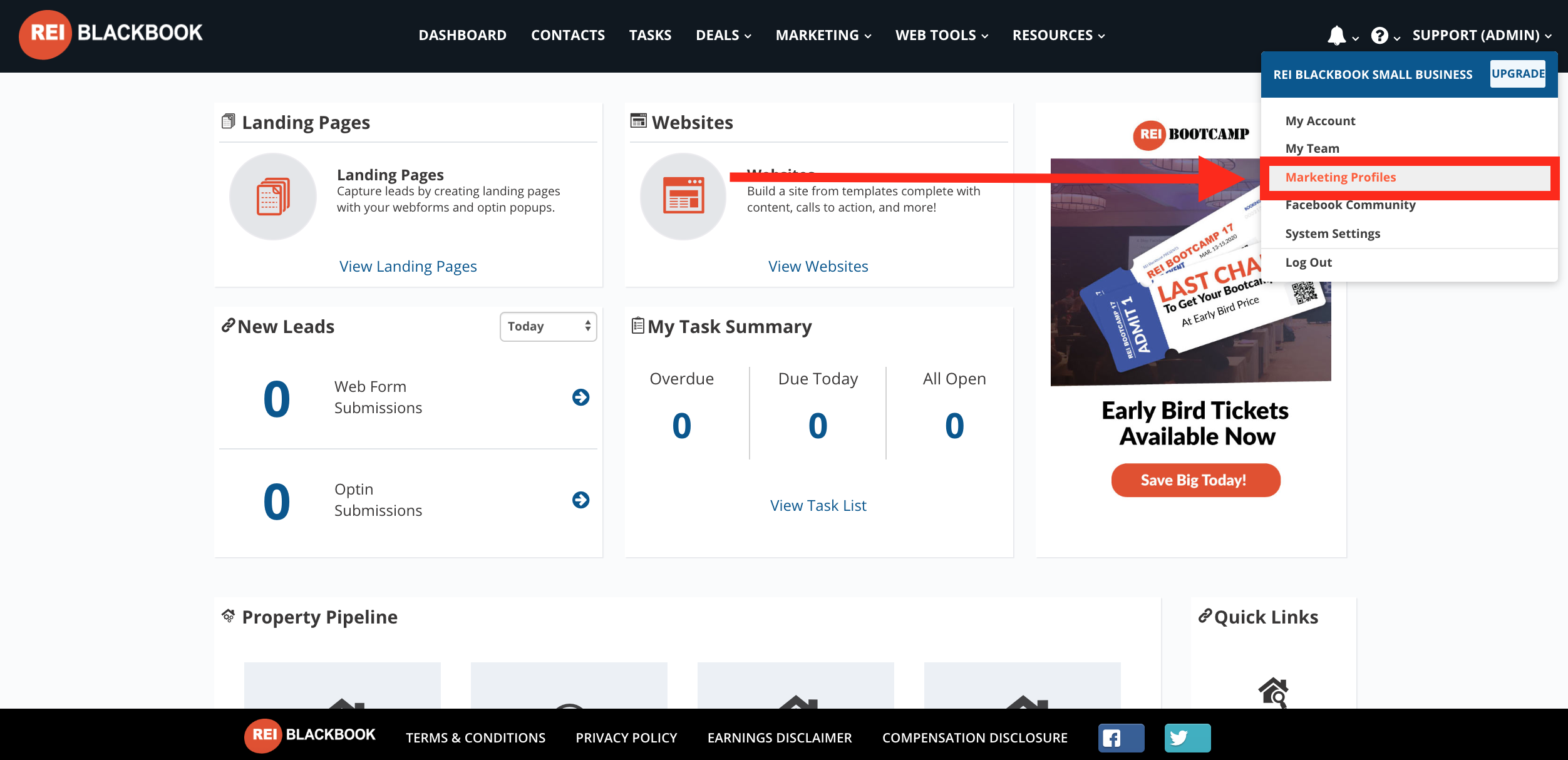 STEP 2: Enter the INFORMATION you would like your clients to see. This will then be used to auto populate different merge fields within your emails, letters & property pipeline marketing items. Once finished just click the SAVE PROFILE button on the bottom of the screen.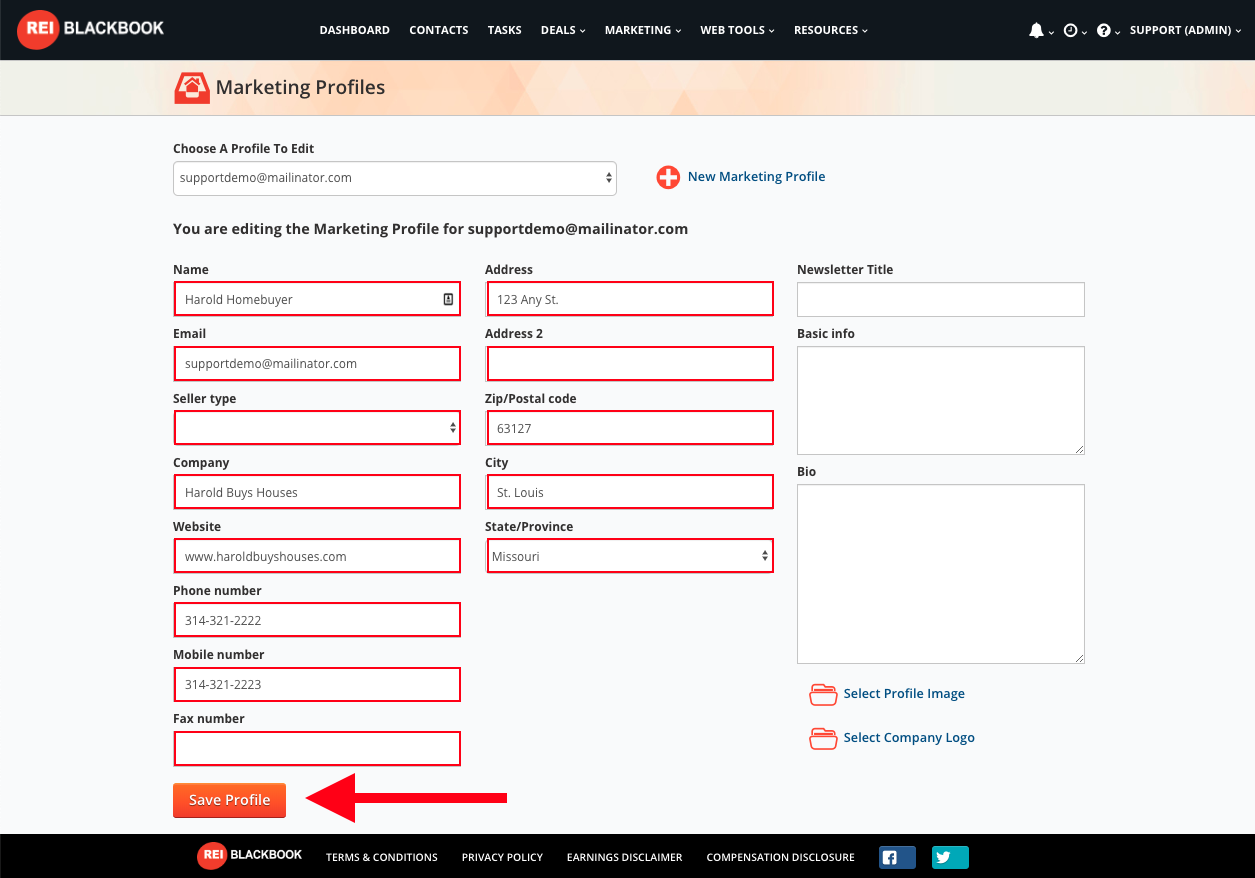 Know the Difference
Some of our tools are similar, but they are used for different purposes.
A marketing profile is different from a contact record. A marketing profile stores information about your business and a contact record stores information about your leads/clients/customers.
For more information on contact records, click Overview Video - Contacts.
NOTE: If you receive the error message below? Don't worry! This is normal when you using a FREE Email Account. You can update this later. Once you create a custom email, meaning email address associated with your domain.