Websites are an important part of your business. To build a website please follow the steps below. 
1. From the main navigation hover over the Web Tools tab and select Websites as shown below.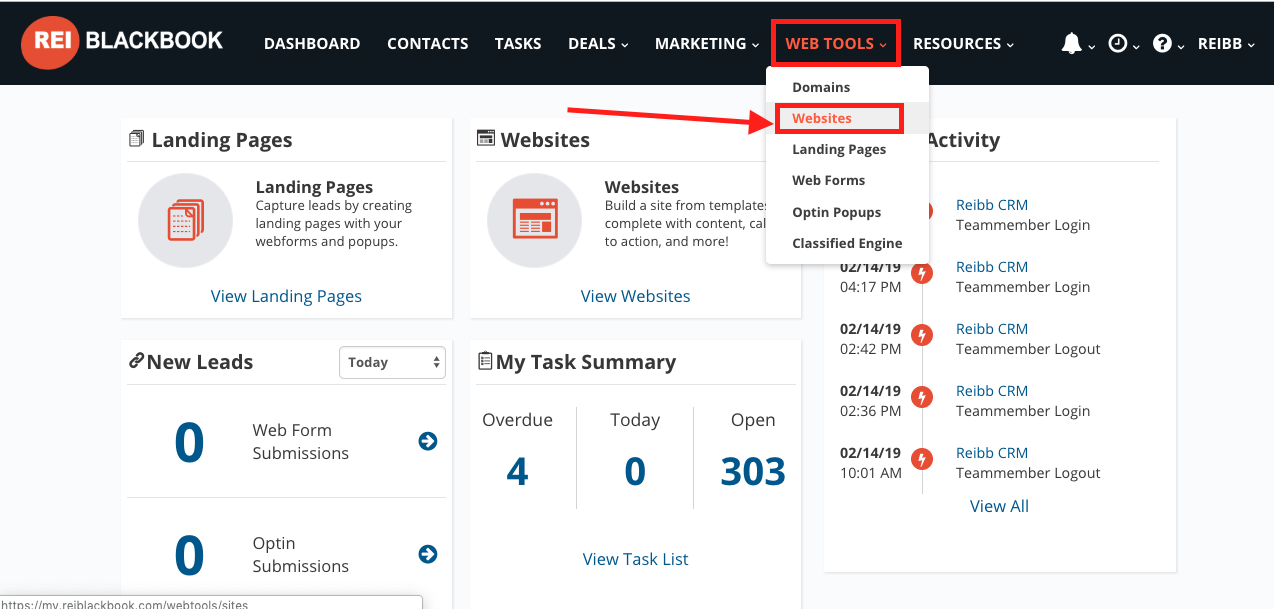 3. After selecting My Websites select Create New Site.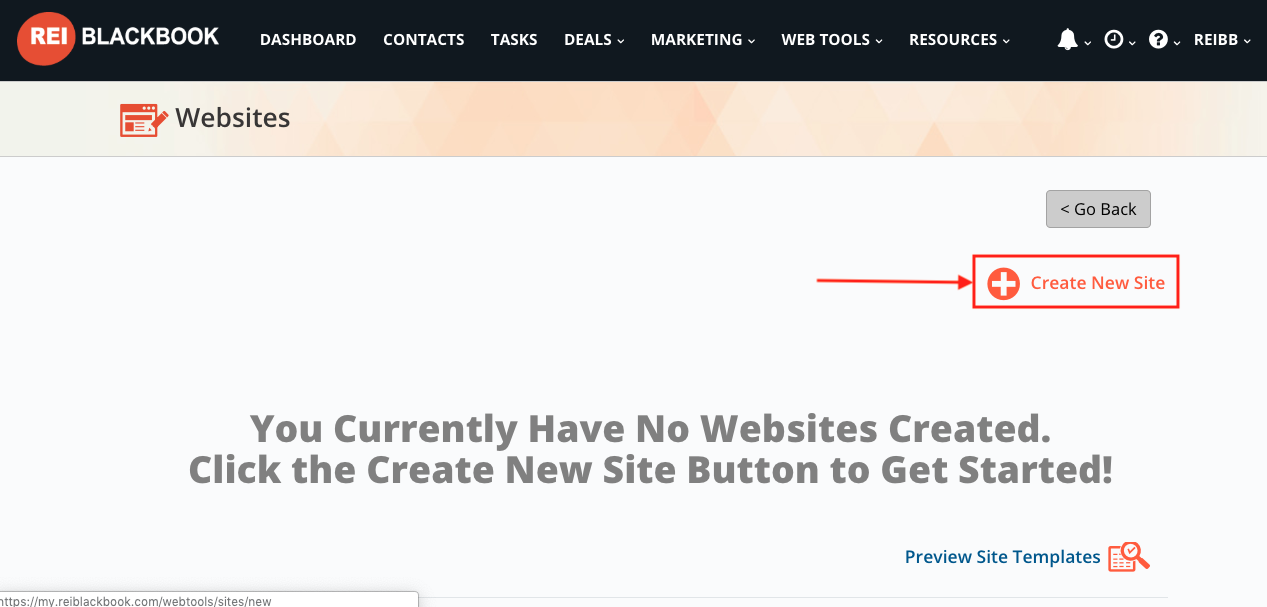 4. Choose your website's content by hovering over the site you'd like to build and clicking on Build Site as shown below.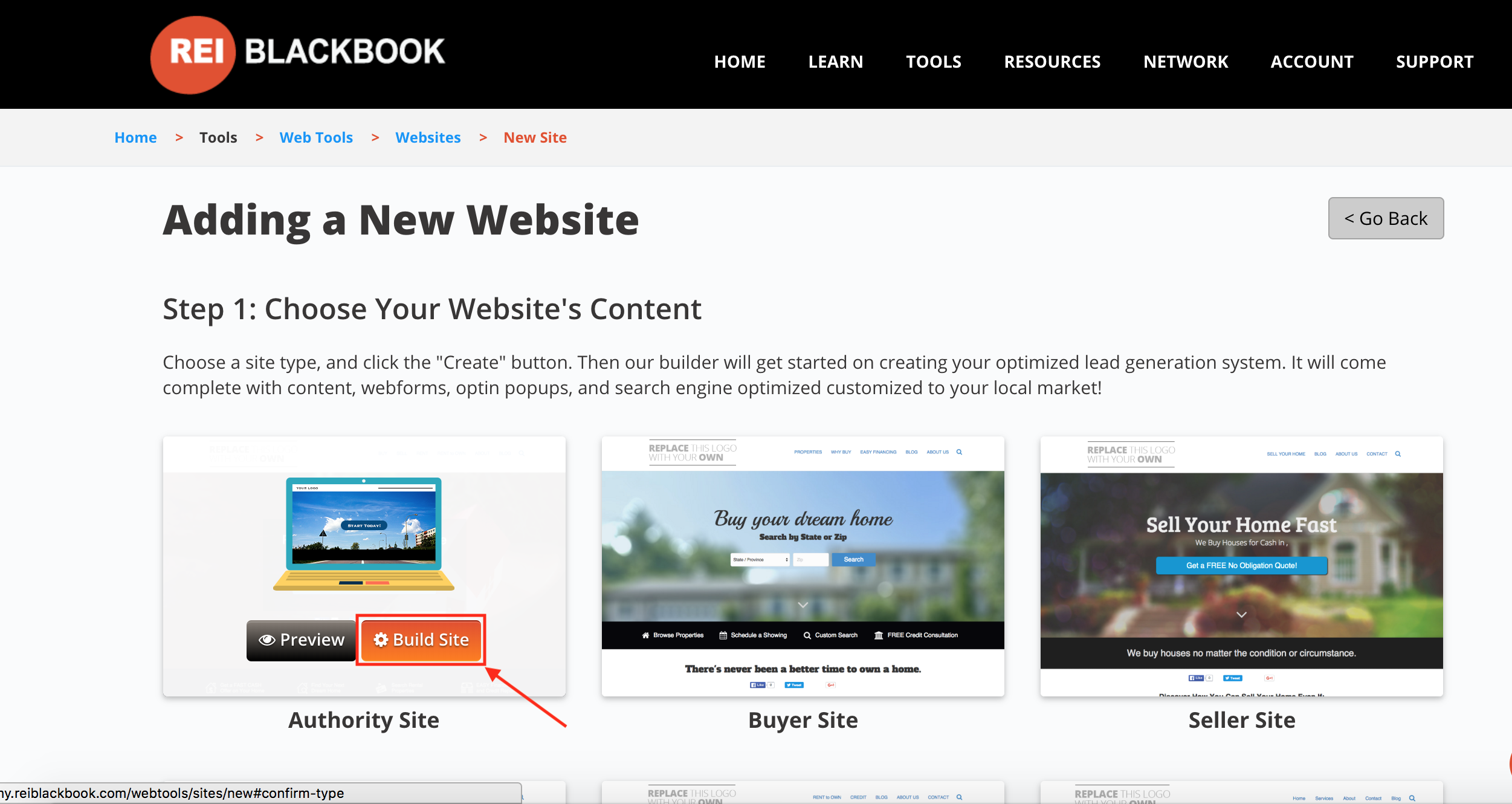 Choose up to three of the five available website templates designed to target your niche: Buyer, Seller, Rental, Rent to Own (Lease Option) or a Generic Brand Site.
Buyer Site
Overview: Showcase "Dream homes" to potential buyers – even if you don't have one to advertise! This site compels your viewers that home buying is easy with you, the relatable professional. You can work within their budget to provide the end all solution to their home buying needs.
Target Audience: Retail Buyers, Homeowners and First Time Home Buyers
Main Call To Action: Find your next dream home. Search by State or Zip
Content Description: The right price, every time. Investors know the key to real estate is buying at the right price, in the right location, at the right time. Your company prides itself on acquiring real estate that moves fast and makes sense (and cents). Now that they've found you, there's no reason to waste any more time chasing dud deals.
Seller Site
Overview: Sellers come in all shapes and sizes, but the most common motivation is money. Offering a fast, fair cash offer is a quick way to get down to business. This website addresses a myriad of problems most sellers relate to. All the while, emphasizing no matter their situation, you offer a solution that is fast, professional and simplified.
Target Audience: Motivated Sellers in Distressed situations. Absentee, Foreclosure, Bankruptcy, Probate. And Landlords
Main Call To Action: Sell Your Home Fast | We buy houses for cash. Get a FREE no obligation quote.
Content Description: Selling made simple. Your clients have options when it comes to selling their home, but their neighborhood realtor isn't going to tell them about it. Selling their house doesn't have to be a succession of hope and disappointment with each offer made and loan that didn't approve. When they work with investors like you, they get a fair offer and a fast closing without the headaches that come with retail.
Rental Site
Overview: Most people in a rental situation are shopping around for the "right place". This simple design makes the home search easy and streamlined, showcasing your properties, or the ones in the community. All of the leads captured are directed to you, their reputable resource to finding the right home.
Target Audience: Renters or Retail Buyer Prospects with financial hardship, low income or poor credit. Main CTA: Find your next rental. Search by State or Zip.
Main Call To Action: Find your Next Rental. Search by State or Zip
Content Description: Renting: A Better Option. Being a homeowner can be more trouble than it's worth. Homeowners spend weekends fixing things and keeping up with general maintenance while renters are off enjoying their free time. Renting guarantees flexibility, affordability, no surprise expenses, no property taxes, and freedom. And doesn't that sound like a smart choice for your clients?
Rent to Own (Lease Option) Site
Overview: Since most rent to own (or Lease Option) prospects are somewhere between "renting" and "buying", this site gives them that little nudge they need. Owning a home is easily within their reach. They can contact you to try out a home while they repair their credit.
Target Audience: Renters or Retail Buyer Prospects with financial hardship, low income or poor credit.
Main Call To Action: We make owners out of renters. Because everyone should be able to own their own home. Download your Free Report
Content Description: You can do what others won't. Leasing a dream home with the option to buy means just that - they have the option to buy it, but it's not a requirement. They have the opportunity to live in a home while they repair their credit or build the reported income needed to qualify for a loan. A traditional seller would never let them move in before the bank said yes – but you will.
Authority Site
Overview: The Generic Brand site gives a broad overview of services and solutions that you, the savvy and successful Real Estate Investor, provide to the public. The audience can easily navigate the content of a Buyer, Seller, Rental and Lease Option Site from one mega-site.
Target Audience: (BROAD) Homeowners, investors, renters, tenant renters, buyers, sellers, credit repair prospects.
Main Call To Action: Real Solutions for Real Estate | We're here to simplify your life! Contact us today.
Content Description: Real estate is a people business, and your client is what's most important to you. You're here to simplify their life, so they can spend less time worrying about real estate and more time living. As experienced real estate professionals, you buy and sell property across the nation with the primary intent of creating positive outcomes for people in predicaments.
Helping your clients find a desired solution to your problem is your specialty.
5. After clicking on Build Site, select Yes! Let's Do It! when the box pops up to build the site.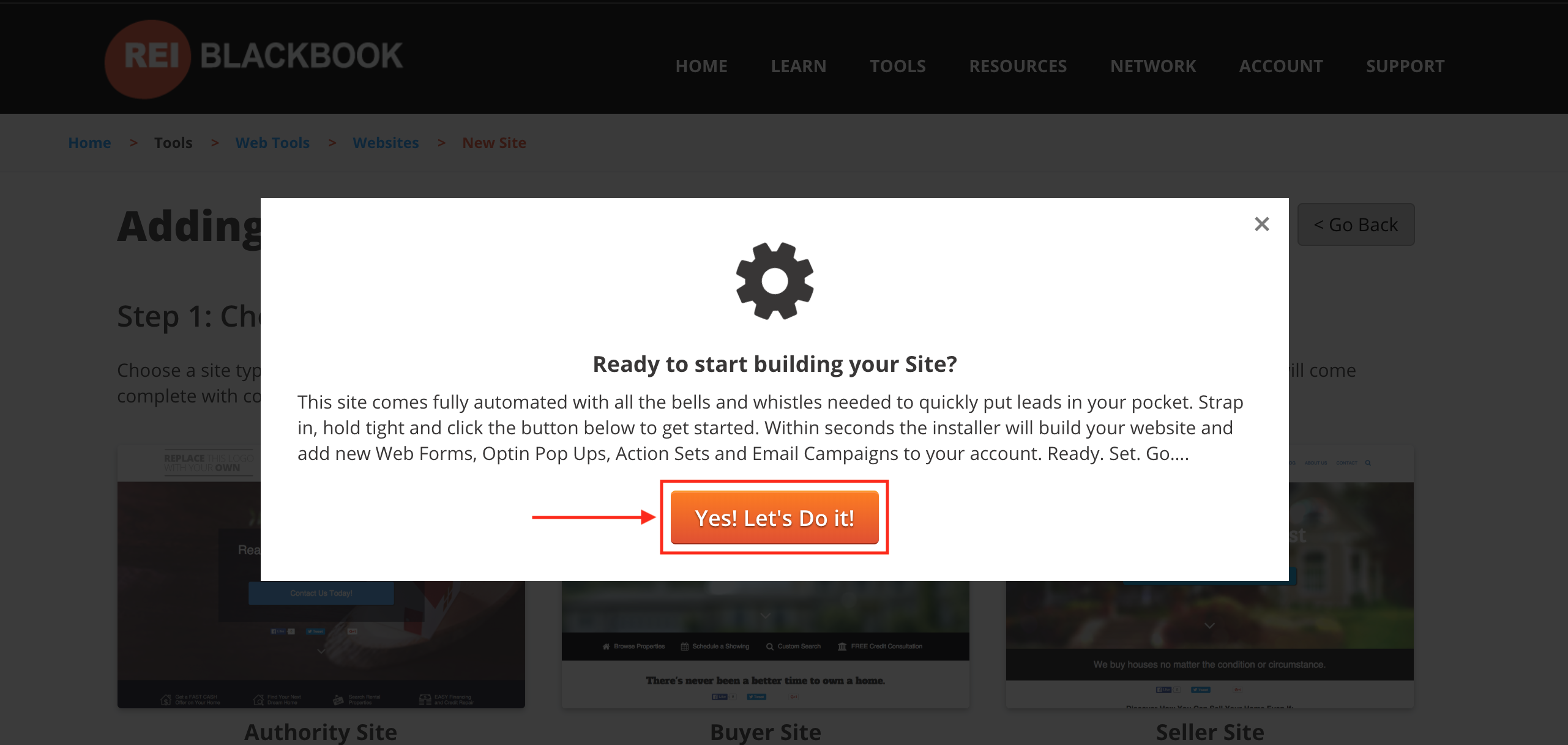 6. Your website is now being built! You will receive an email in a few minutes once the process is complete. Please watch the video on this screen for next steps!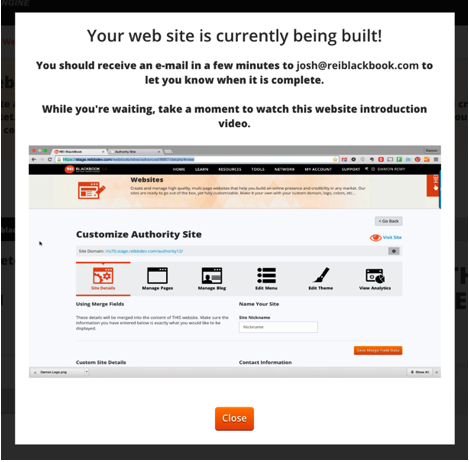 Congratulations! Your website is now built. Its now time to add your logo and make some basic customizations! If you have any questions or comments on any of the instructions above, please feel free to reach out to us at any time at support@reiblackbook.com