Day 2: Set Up Your Business Phone
Welcome to Day 2! On this day, you will learn how to set up the basic features of Profit Dial.
You will need to set up a business phone number and a default callflow. These are the first steps needed to ensure when you receive potential leads, they don't slip through the cracks.
NOTE: Please reference the checklist at the end of this chapter for helpful training videos and support articles to assist you as you set up your Profit Dial phone number.
Set Up Your Profit Dial Phone Number
As a business owner, a phone number is essential to have. You need to have a way for customers to contact you. Profit Dial is the phone system inside REI BlackBook.
There are two types of numbers you can select from:
Business line

Information hotline
We recommend you set up a business line first, but an information hotline can come in handy for different marketing strategies like Bandit Signs on Wheels, for example.
Business Line
With a Profit Dial Business Line you can receive inbound calls from your prospects, leads, and clients and choose how you want to handle the call.
When someone calls in, you choose to forward the call (to your cell phone, office phone, call answering service, or any other phone number) and answer it live, or send it directly to a pre-recorded message and a voicemail.
To get started, we are going to keep things simple and show you how to create a fundamental Callflow so any new call that comes into your business is forwarded directly to your cell phone.
Information Hotline
A Profit Dial information hotline is just that, a "hotline" where a prospect can call to learn more about your company or service.
For example, let's say you put a sign rider on top of a property that you have for sale or for rent that says "Call 314-555-5555 ext. 101 for pricing".
When they call that phone number, they're going to be met with a greeting, and a prompt to enter their extension so they can hear about the property and get pricing information.
Information hotlines are used to provide information without involving you or a member of your team. If a prospect is interested in speaking to you, they can dial "0" at any time.
FAQ's BUSINESS LINES INFORMATION HOTLINES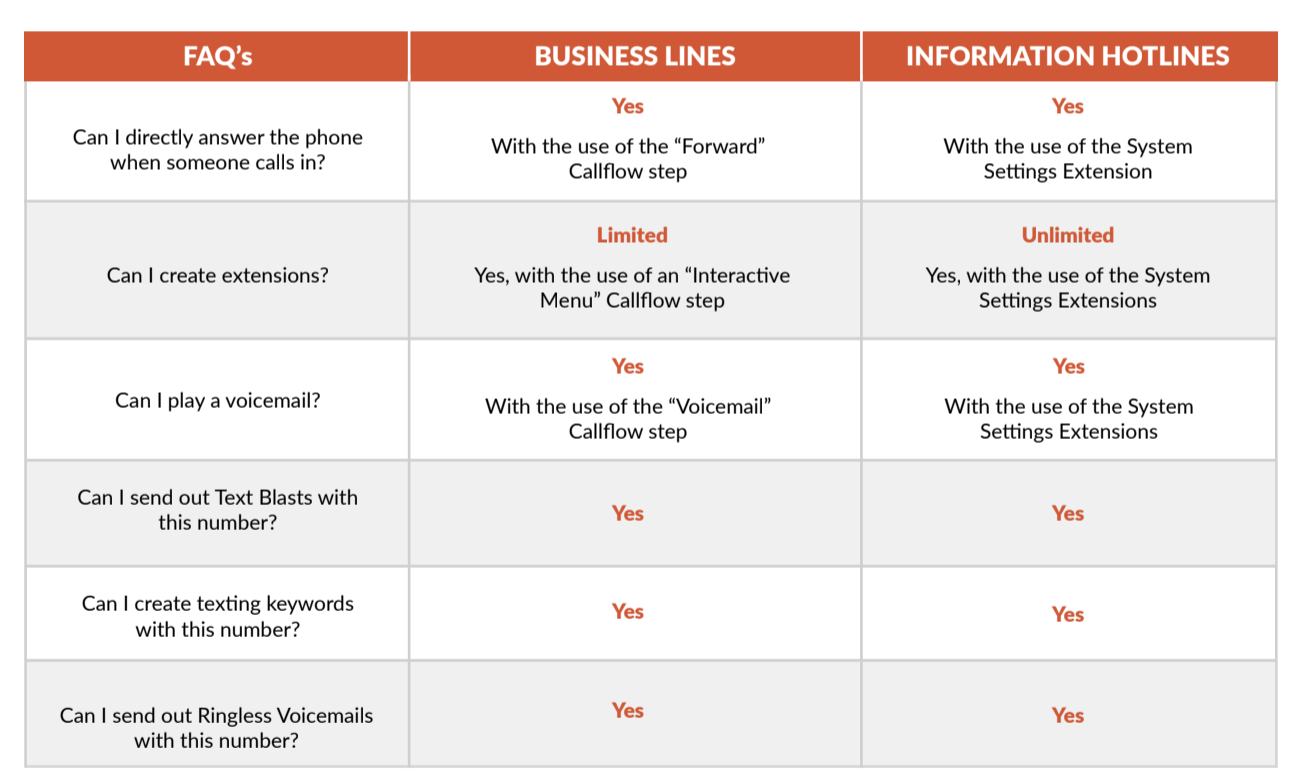 You can select from a local or toll free number, but we recommend you use a local number. Local numbers make people feel like they are calling a person instead of a corporation, which will increase your response rate!
After selecting the number you want to use, you will be prompted to configure the number. During configuration, you will name the number and set up a default Callflow. The name is for internal use only, so select a name that will help you remember what that number is used for.
For example, if this is your main business line, call the number "Main Business Line". Once you have named the number, you'll need to create a new Callflow.
Before we jump into what your default Callflow should include, you'll need to understand what a callflow is.
Callflows and workflows are the series of automated actions that happen inside your REI BlackBook account.
A callflow is triggered when someone calls your Profit Dial phone number.
A workflow can be triggered multiple ways. It can be triggered when someone fills out a webform, through a keyword, by another workflow, when a contact field is updated in the contact record in your CRM, through a Facebook Lead Ad, or you can manually trigger a workflow.
The callflow and workflow builder is one of the most important features in REI BlackBook, and you will get very familiar with it over the course of this guide. To get started, we are going to show you how to build a very basic callflow that will simply forward all inbound calls to your cell phone.
As time goes, we will introduce more advanced callflows, but let's walk before we run. Tomorrow you will be introduced to the workflow builder as you learn how to create your first website. With that said, please refer to the checklist below to get your first Profit Dial phone number and corresponding callflow setup.
Day 2 Checklist
If you need assistance accomplishing each checklist item, click on the support articles.
Set up your Profit Dial Number and Callflow

REI BlackBook Callfow Builder: A Beginner's Guide

Thank You!
We appreciate you taking the time to accomplish Day 2 of the Getting Started Guide. If you are ready for Day 3, click here.
For questions, contact us at support@reiblackbook.com.