Let's Track A Contact's Campaign Activity
You can easily view which of your marketing campaigns a prospect/lead came from inside your contact records.
The type of webform that you are using will determine how the information shows up in your CRM.
In this example, let's say you have a webform that requires a person to submit their name.
Objectives
In this support article, you will learn step-by-step how to track a contact's campaign activity.
Video
Coming soon.
Steps
1. Log in to your account and click on Contacts located at the top of your dashboard menu.

2. You will be directed to your contact management system. Click on a name of whose campaign tracking activity that you want to view.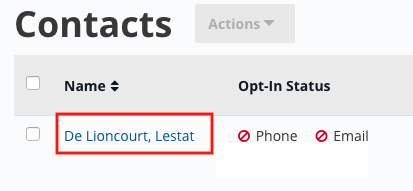 3. You will be directed to that contact's record. Click on the Tracking located on below the details section of the contact record.



4. Under the tracking tab, you will be able to see the details on which marketing campaign this contact came from.


Thank You!
We appreciate you taking the time to learn how to track a contact's campaign activity. If you have any questions or concerns about the information above, please contact us at support@reiblackbook.com.