Let's Update Your Outbound Dialer Connect Number
The phone number that connects your call to a contact is your phone number that you entered in your account settings.
When making an outbound call using Profit Dial, the system will first dial out to your personal phone number before connecting you with the contact that you want to reach.
You can change your personal connecting number easily inside your account.
Objectives
In this support article, you will learn step-by-step how to update your outbound dialer connect number.
Steps
1. Log in to you account. Then, click on your name located in the upper right-hand corner of your dashboard menu.
In the drop-down menu, click on My Account.

2. You will be directed to your account. Click on Account Info.

3. You will be directed to you user information. Under Contact, click on Update located under Timezone.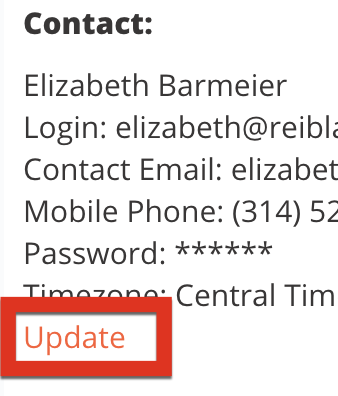 3. Next, scroll down to your mobile number. Click on the box next to Mobile Number and type in a phone number.



When you are finished, click on Update Information located at the bottom.

Thank You!
We appreciate you taking the time to learn how to update your outbound dialer connect phone number for Profit Dail! For questions, contact us at support@reiblackbook.com.