If you want to transfer your domain to another company, the other company may ask for an authorization code (also known as EPP codes or transfer keys) to verify that you own the domain name.
Note: If you need an authorization code to transfer a domain to GoDaddy instead, see Get an authorization code to transfer my domain to GoDaddy.
Many country-code top-level domain names (ccTLDs) don't require an authorization code. However, there are a few exceptions where you'll need to call GoDaddy support to get an authorization code. For more information, see Authorization codes to transfer ccTLDs
Before you request an authorization code, you need to verify the Administrative contact's email address - that's where the authorization code will be sent.
Required: If you've just added Protected Registration and enabled two-step verification on your account, you must wait 72 hours before getting an authorization code.
Looks like you're not logged in. If you log in above (under

), we can save you a couple of steps.
Go to the Domain Settings page.
On the Domain Settings page, under Additional Settings, click Get Authorization Code. We'll email the code to the address listed for the domain's Administrator.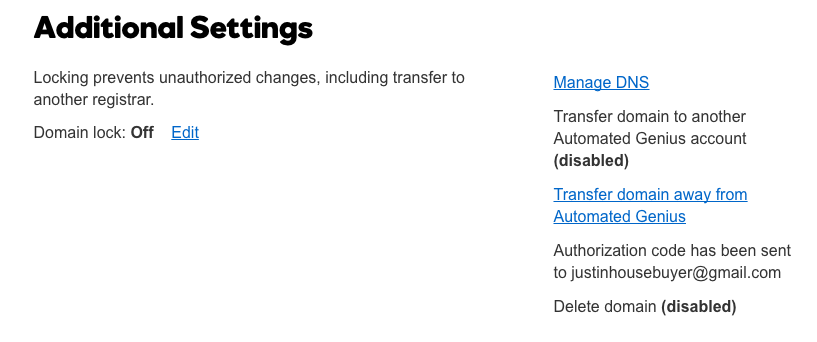 If you have an .at, .au, or .eu domain name, we'll send the authorization code to the Registrant contact's email address as it displays in the Whois database.
Warning: You won't be able to transfer your domain for a 60-day period if you change the Organization name for the registrant contact, or if you change the First name and Last name for the registrant contact if an organization isn't the legal registrant for your domain name.
I didn't get my authorization code, now what?
If the administrative contact hasn't received the authorization code after 24 hours, you can download it by following the steps listed in Get authorization code via download.