Property Alerts allows you to be notified automatically if a member posts a property in an area of your town that you are interested in to the REI Community. If a property is posted that meets your criteria then you would get an email alert. Follow these Step by Step instructions below to know how to set up a saved search so that you get updated emails every time a property matching your criteria is added to REI BlackBook.
From your account's Dashboard click on Resources and select Property Alerts from the drop down menu.



On the Property Alert page, click on +New Alert. 



Type in the Name of This Alert and select/deselect the options based on your preference/criteria. The name can be anything you decide, or that will help you remember that specific saved search.



Click on the Save Alert button after you selected what your criteria is. You will also need to decide how often you want to be notified for a search. You can be notified Once Every Hour or Daily. 



The saved search will now reflect on the Property Alerts home page. 

To edit or delete the alert, click on the pencil icon or trash bin icon respectively.
*Note: You can also add multiple email address or edit the current email address to receive the alerts you've set on the space provided. Click on the Update Who Receives Property Alert Emails to save your changes after you've entered in the additional email, or changed the email address.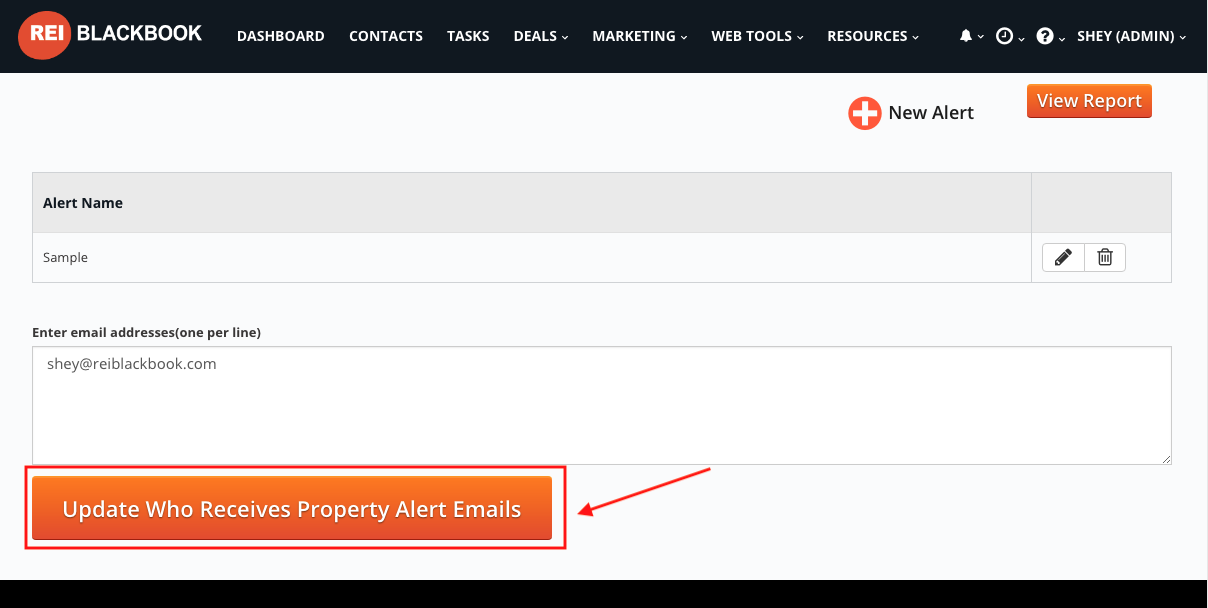 You have now successfully set up Property Alerts. If you have any questions or concerns about the information above please contact us at support@reiblackbook.com.